welcome!! first time i recall seeing an LD myself was the mid/late-1990's; my folks were shopping at our local FUTURE SHOP (soon to become BEST BUY)
for a new bedroom T.V. and VCR, and i was entertaining myself browsing, and i recall coming across an LD player, not really certain what it was, and fiddling with it for fun.
anyway, i finally get to the tray OPEN/CLOSE, and the main LD tray expels... revealing this monster-sized CD of which i'd never seen the like of before!!
for whatever reason, i was just too young and scatterbrained at the time, never thinking to ask about it, and just moving on to something else...
jump to Y2K, i experience the Internet for the first time. one thing leads to much more... and i eventually begin hearing about this "LaserDisc" thing,
which turns out to be precisely what that "Jumbo-CD" thing i saw years before was, and i begin, via EBAY to delve into, and learn all about,
all the super-sexy CE gear that happened back when i was a snot-nosed tween that couldn't care less.
i begin browsing LD players specifically, and this very image here leapt out at me, Love at First Sight;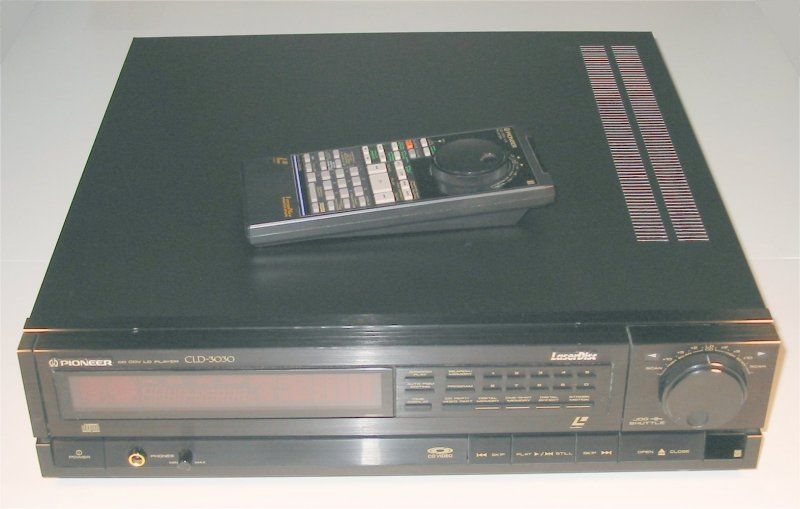 1988 PIONEER CLD-3030, the first vintage CE product i had ever seen that had TAKE ME HOME written all over it.
i had t wait some years before finally obtaining one, going through several intermediary players in the process,
but by 2008, a little-used, almost cherry example was finally mine, and, in the years since, i've become something of a resident expert on this model,
despite my relatively minor stance here as an LD enthusiast...