Hello.
So, after reports came in late yesterday of a man whose entire being capitulated under an assault of extreme bass terror while watching the (now infamous?) Earthquake Laserdisc, I decided to break out my little Zoom U-44 audio capture rig and conduct an analysis of the two audio tracks contained on said wonder discs.
These are my subpar findings. Please look forward to them.

Disclaimer:
Capturing the audio proved to be a real pain in the rectum. Only because for some reason Reaper decided that it wanted to constantly crash on me at various intervals. Eventually I got two captures. One of the analog stereo track, the other of the digital stereo track. Unfortunately I captured one at 44,100 16 bit, the other at 48,000 24 bit so there is disparity in that sense. However I ran FFT analysis at such a high rate this is still going to be really bloody accurate. Or, accurate enough for the purposes of this test.
It took so long to stop Reaper crashing during capturing the audio that when I finally got two captures and saw the sample rate differences I just didn't have the will to do it all over again. I'm sat here watching my beloved Mets playing the Braves on Opening Day and it's taken 5 innings to get it wrapped up! #LGM

Background:
This whole thing stems from recent forum discussion of the exospherically noisy 70's disaster flick Earthquake and it's Oscar-winning use of building-destroying Sensurround bass. It appears that this particular disc
Earthquake (1974) [42072]
contains the original Sensurround audio track that was used in cinemas (and promptly turned them all to rubble) in 1974.
The discs sound great on my Yamaha YSP-2700 16 speaker soundbar and sub setup. Though my subwoofer will only go as low as 50hz. You need to be getting down to around 20-30hz to get the full buttock-splintering effect. Of course, to get the full fat, full beans experience you will be wanting to pick up a bunch of original 1970's Cerwin Vega horns (available on eBay sometimes) and placing about 50 of them in a wall to get somewhere near the original effect audiences heard in 1974.
Fellow forum user
laserfanhld-gb
has a half decent

home cinema at his gaf and promptly purchased a copy of the same Laserdisc. He was underwhelmed with the Sensurround track along with any surround or stereo processing that may be in his chain and ejected the disc feeling somewhat underwhelmed.
A second attempt, this time letting the audio flow through untouched proved to be the sweet spot. And thus his body exploded in to a beautiful confetti shower as it surrendered to the extremes of proper, beautiful Sensurround destruction. He's going to explain the experience in his own words another time, so I'll leave it there for now.
The goal of this entire process is to analyse the main quake, where Sensurround is pushed to the limit, to see if there are differences between the tracks and if indeed the tracks actually hit Sensurround frequencies. I personally think that the Digital Stereo track sounds a bit squashed, like there is too much going on to really make it sing. I obviously cannot comment on the full force of the bass as I don't have the rig to cope with it at all. On my setup though, I prefer the Analog Stereo track.
Process:
Sample rate woes aside, to make this as fair as possible I captured the entire duration of the earthquake. The quake begins around 30 seconds in to Chapter 21, which is at the very start of Disc 1 Side 2. The opening 30 seconds or so of Chapter 21 are fairly quiet, so I started recording at 15 seconds in. This was a good marker to ensure an equal start for both captures.
The earthquake lasts around 8 and a half minutes, so I captured it in full on both occasions.
The audio was captured in Reaper using a Zoom U-44 audio device over USB-C. I used a toslink cable to capture both the analog and digital tracks (confirming this with the decoder output on my soundbar, Analog and PCM respectively). No point using RCA imho.
Both *.wav files were then run through Speck for spectrogram analysis. I then ran a full FFT analysis of both tracks in Adobe Audition CC 2020 and looked at the results.
Findings:
TL;DR the above? Grand. Here's the results. It's quite interesting.
Below is an analysis of the entire quake on the Analog Stereo track. You can see the frequency range spans across a wide spectrum but what we are interested in is how low it gets. In this instance we're hitting 23hz at it's lowest point according to Adobe Audition CC 2020.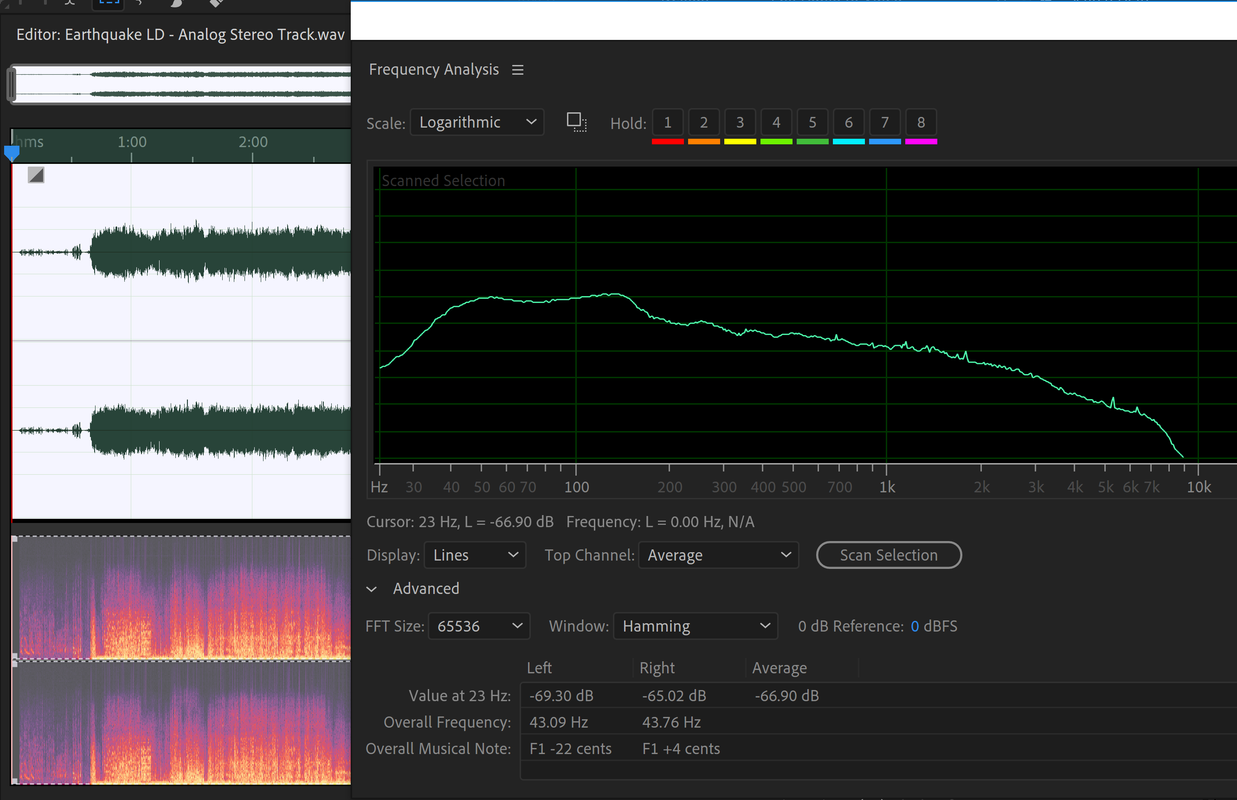 Taking a look at the Digital Stereo track yields slightly different results and a clearly different curve. Note that here the audio apparently goes down to 1hz!? I'm taking that with a pinch of salt, though the curve is interesting as you can clearly see the swoop between 1hz and 20hz. So even if we discard the
really
low frequencies detected, we're still hitting reasonably attainable frequencies of, say, 10-20hz. Well within Sensurround levels. Incidentally, although the screenshot doesn't show it, the average volume at 23hz is -67db on this one, not far off the Analog Stereo track average at 23hz.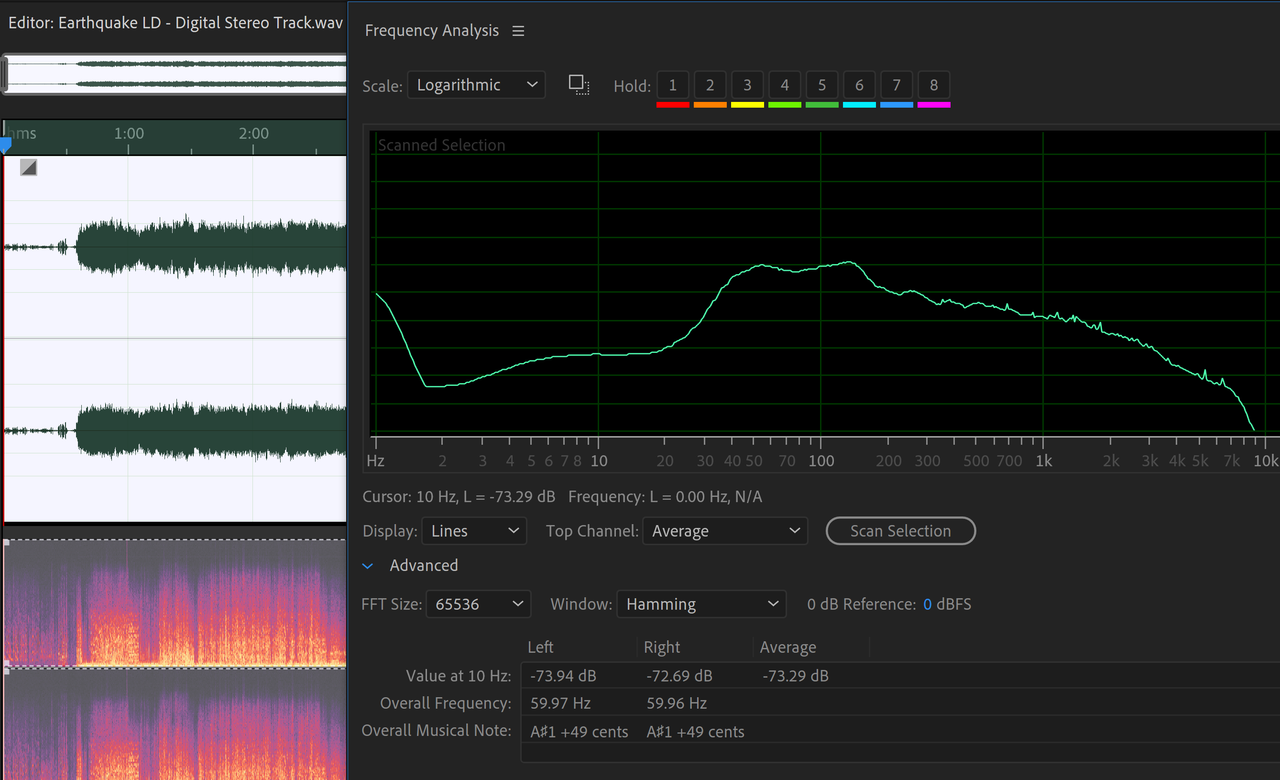 Below is a comparison of both tracks, taken at the very start of the earthquake. This is the scene in the cinema when the ground begins to shake as the actors on screen open fire. First the Analog track, then the Digital track.


Finally, here are two full spectrograms of the Analog and Digital tracks respectively. I think here you can see some differences between the two tracks. To my completely inexperienced eyes, it looks like it captures some differences, though it looks fairly minimal and not as good a representation as the frequency analysis waves.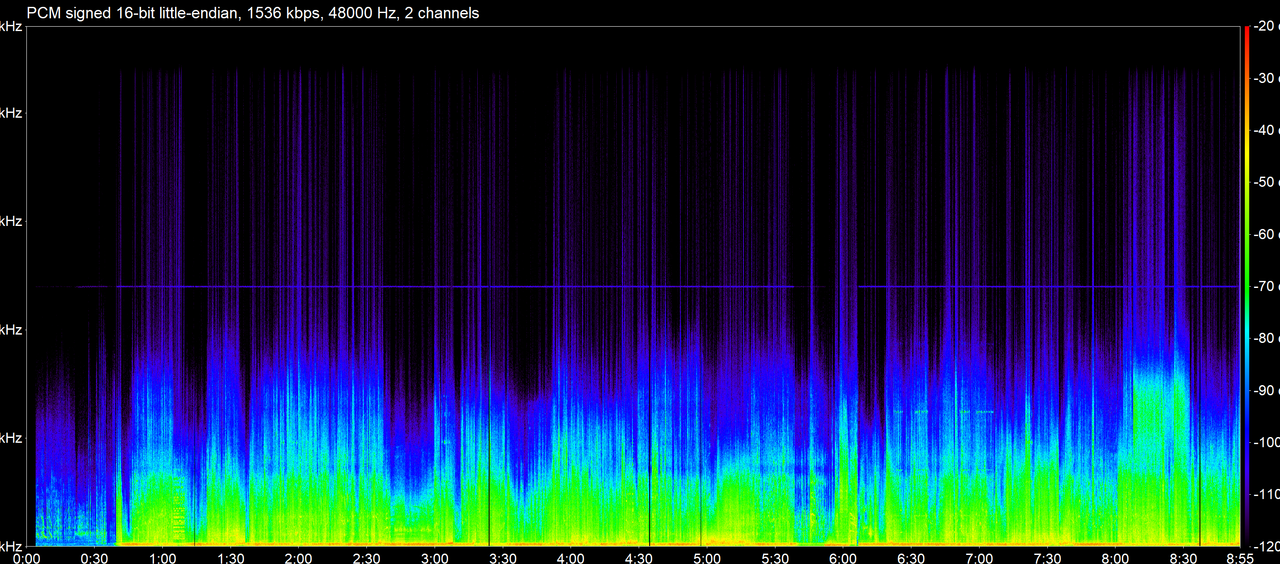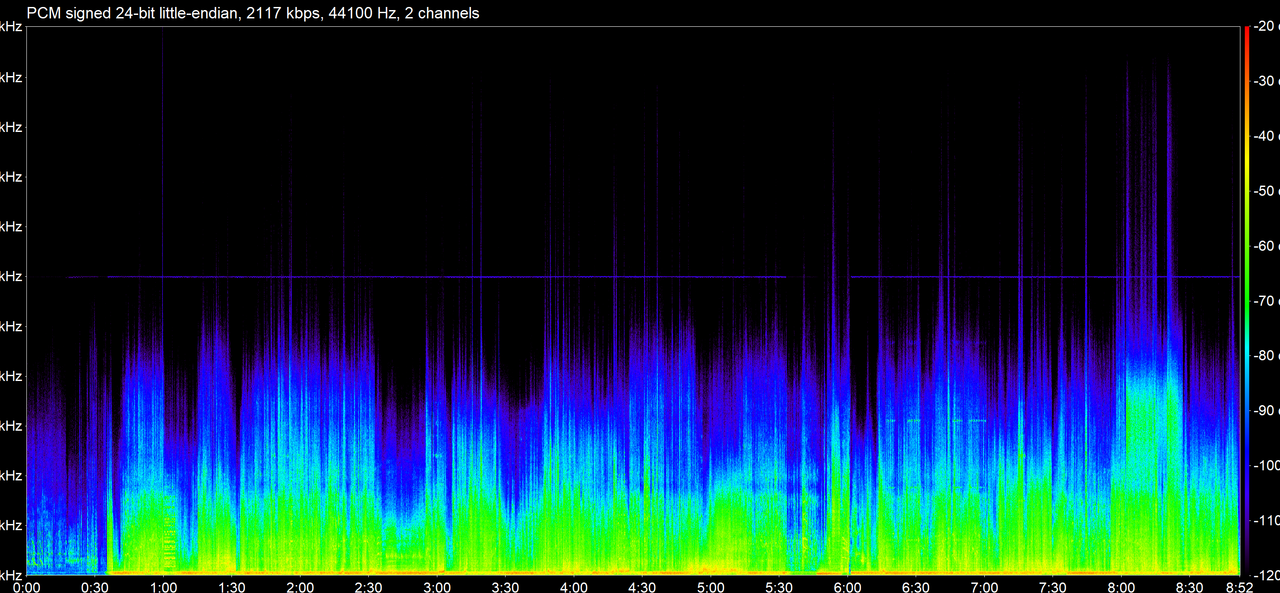 Conclusion:
I'm no sound engineer or expert, but I think there are definitely some findings here even to my very inexperienced eyes (ears?
). It appears that the Sensurround track
is
present (note the prolonged, super-low frequencies throughout the quake) that's not really ever been in doubt. The digital track appears to me at least, to be slightly narrower and squashed. Even taken at a different sample rate.
With all of this in mind, I think you really will need a rig that can have it's legs stretched by such a demanding low frequency soundtrack. This is probably why it doesn't sound at it's best on the average home sound system, even a <30hz capable rig.
Regardless, I'm glad I went to the trouble of documenting all of this. Maybe it will prove enlightening to someone far more experienced? Maybe I'm full of s**t. Either way, I hope this post helps in some way.

Side note, as I type this the Mets just won their opening game. That's the high point of the new baseball season over and done with for me then!

Further reading:
Here is some interesting information from Kef who state that Sensurround could get as low as 10hz!
https://us.kef.com/blog/sensurround-a-s ... experience
Some discussion from former Sensurround exhibitors and enthusiasts:
http://www.film-tech.com/cgi-bin/ubb/f1/t002087/p1.html
A very thorough Amazon review of the Blu Ray debacle:
https://www.amazon.com/review/RGVHFWXC7FKIQ
More bowel-perforating Sensurround information than your mind can handle, in 70mm!
https://www.in70mm.com/library/process/ ... /index.htm