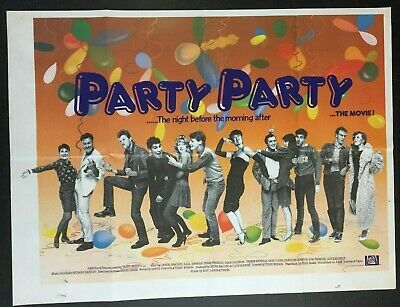 I can't remember how i stumbled upon the very obscure 1983 British comedy Party Party. All i recall is seeing a snippet somewhere and immediately heading over to Jeff to order the DVD, which I am surprised to see is still in print.
I had caught the trailer before watching the film but otherwise knew absolutely nothing about it. In fact when trying to dig up information on it there appears to be absolutely nothing about it online. So going by my impressions of the film, I can only really liken it to something along the lines of American Pie, Sixteen Candles and Animal House. Or even Julien's favourite films (along with Waterloo), Sophie Marceau hyperfilms La Boum and La Boum 2!
Keep in mind though that despite those comparisons this film is
very
British in it's delivery of comedy. It's co-written by and also stars Daniel Peacock, who you may know as part of Comedy Strip Presents... but far more likely you will recall him as Mental Mickey from Only Fools and Horses.
Mental Mickey was only in one episode during Season 4 when Rodney forms a band called A Bunch of Wallies. Peacock plays the frontman and is absolutely hilarious in his role.
"I TOLD YOU ONCE RODNEY I AIN'T GONNA TELL YA AGAIN SON. I DO THE 1, 2, 3, 4'S!!!!" and "...I AIN'T EVER BEEN TO RAMPTON!!!!!...............I've been to Broadmoor once or twice but anyway...."

Those are a couple of classic moments from Mental Mickey, but his character Toby in Party Party is the complete opposite. A shy, timid and not very bright lad who loves Wild Stallion cologne and has his eye on local beauty Brenda. Peacock does a great job playing Toby, some moments later in the film are genuinely cringe!
The premise for Party Party is pretty straightforward. Local lad throws a New Years Eve party at his home while his parents are out (and good God is it cringe when they come home!!!

). Chaos then ensues. That's it.
Most of the fun you'll get out of the film is in spotting all of the cast and trying to guess where you saw them before. You've got an absolute wealth of famous names here including the late Gary Olsen (from 2 Point 4 Children), Caroline Quentin, Jacko from Brush Stokes!!! (Karl Howman), Billy from Eastenders (Perry Fenwick). Even the Every Loser Wins LEGEND Nick Berry is in this! The nostalgia alone from guessing where you saw who and what from is worth watching Party Party for alone.
The film itself is alright. It is VERY crude and very much of its time. That is to say that the kind of humour on display here wouldn't go down well with audiences if it were made today. In that way it's also a glimpse of a past era, long gone now. It's not all about sex and crude jokes though, the end is actually rather endearing and I found I did care about the outcomes for each of the characters. The humour doesn't hit the mark every time though but I didn't really mind that much as I was too busy drowning in nostalgia!
One element that the film really does deserve a big, shiny gold star for is its soundtrack. This is absolutely stellar and features all the top new wave, new romantic, rock and roll and electronic acts of the day. You've also got the title track Party Party by Elvis Costello which was never released anywhere else in his catalogue, only on the Party Party soundtrack. A few other names to drop in include Bananarama, Altered Images, Pauline Black, Madness, David Bowie, Bad Manners, Midge Ure, Sting, Modern Romance, The Go Go's and even Chas and Dave! That's just a few names there, the soundtrack is absolutely jammed with mega music and well worth hunting down.
I am guessing the soundtrack might be why this film is still stuck in DVD limbo. You get a 4:3 presentation and a 2.0 Dolby Digital track, that's it. No extras, no nothing. The print quality isn't great and it is a desperate shame this hasn't been brought to Blu Ray and in its proper aspect ratio. I'm genuinely gutted about it as I feel the film deserves better, especially as a time capsule piece if nothing more.
Party Party is an alright film but if you were there, and you lived it, this film will drown any child of the 1980's and even 1990's in nostalgia overload. Party Party, while not comedy gold, is still a very fun film and certainly rewatchable. It's definitely earned a place in my list of favourite films for the nostalgia alone, the rest, including the soundtrack, is a massive bonus.
I also think a petition should be made for Universal (or whoever is the current rights owner) to get this out on Blu Ray. I just imagine the soundtrack might be a red tape minefield though...
Recommended.
Side note:
Here is a theatrical release poster for the film in Greece. I didn't even see it was released there. I think it's a better design than the UK ones as it captures more moments from the film. Very cool and super rare I'd imagine.