I hope Julien doesn't mind, but I felt this one deserves a space of it's own instead of a post in the 'stuff yizzer watching?' thread.
Double Target (1987)
Double Target, aka Der Kampf Gigant, is a giant slice of Z grade gung-ho military action! I'll get to the point and answer the question that is clearly on your mind already.
Is the film as good as the poster?
YES. YES IT IS.
I watched the Banhof's Kino Blu Ray release of this obscure action epic last night. Considering how obscure a film this is, it's amazing it survived the transition to Blu Ray at all. The picture is actually very sharp, very colourful and naturally grainy. I refer to natural grain because the film hasn't been restored at all. It looks like the film reels were found in a pidgeon loft. It's in tatters. Burn marks, scratches and all the rest of it litter the screen, yet underneath the actual image itself is superb (the scan is from the original film negative, which is a miracle in itself). I don't mind the grain, it just adds to the 42nd Street nostalgia.
Audio is serviceable too. You get the original theatre stereo track here and for the most part it is spot on. At some of the more damaged areas of the negatives the audio does get a little rough and ready (like our hero). You just have to live with it and be thankful that this is even available to purchase in HD at all. I watched the default English audio track though an Italian track is available, the film is clearly in English so I went with the default this time round. English and German subtitles are available too if required.
Plot? What plot. If you want intricate storylines and an arc that spans generations then you've clearly come to the wrong place. To get to the point, gung-ho veteran is in Hong Kong (but it's actually Vietnam but filmed in the Philippines). Gung-ho veteran wants to see his wife and take his son home who he's never met before. Gung-ho veteran gets annoyed with important government people. Government people have some Russian friends who want said gung-ho veteran dead. Gung-ho veteran is not pleased. Everything blows up, millions are killed. The end.
Now, when I claim that everything blows up, take that as gospel. EVERYTHING. BLOWS. UP.
EVERYTHING
.
Within the first 10 minutes of this films runtime, thousands are dead and half the budget has gone up in smoke on blowing up absolutely everything within the scope of the camera lens. This is how the film proceeds for pretty much it's entire duration. There's some lulls here and there as the story builds to an action-packed climax including a superb helicopter fight with the 'end of level boss' that is reminiscent of Tony Zarindast's 1986 hyperepic Death Flash (of which I own 3 copies of on VHS, genuinely and no exaggeration, it's that wonderful).
Our hero Bob Ross, played expertly by the door kickin' hyperstar Miles O'Keefe, is so mean and moody he just owns the entire film with his permanent scowl that looks like he double dropped before filming and has a serious case of the gurns for the entire 1hr and 42 minutes. Shirt off macho bravado? Check. Scowl? Check. Beers? Check. One scene in particular, and reminiscent of the poster for the film is just so violent and wanton it beggars belief. O'Keefe owns the screen. No question.
It's not just macho bravado though, it's a reasonably well-balanced blockbuster in places too. The heroines of the film kick some serious butt and are entirely unafraid to wield machine guns the size of planets and mow down wave after wave of bad guys who dare to stand in their way!
So wanton is the violence and destruction that I decided to draw up a few statistics which are presented below for you to ponder on just how magnificent Double Target is.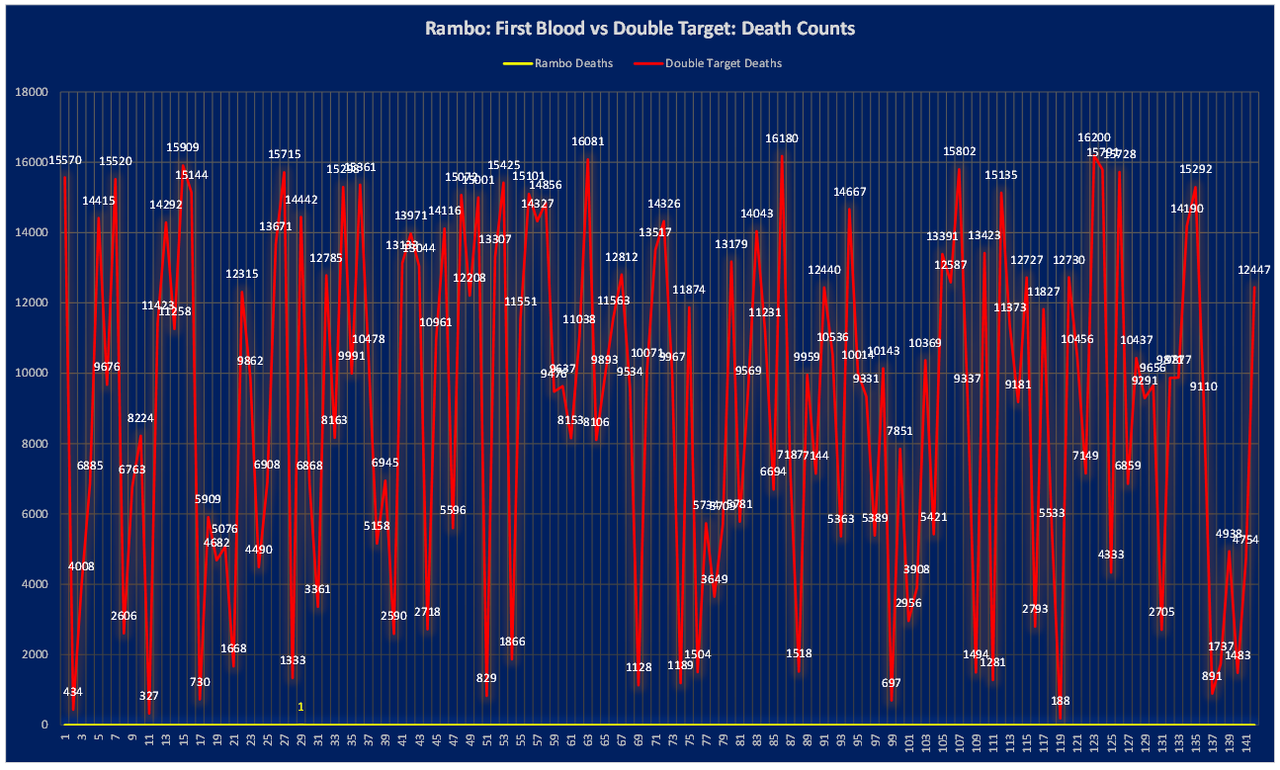 Going by the incredibly accurate line graph I drafted above, you can clearly see quite the difference in the sheer volume of deaths per minute of the film runtime versus a
traditional
action epic. In this case the valuable comparitor was Rambo: First Blood.
Key Statistics:
Rambo: First Blood clocks in a whopping 1 total deaths across it's 133 minute runtime. The first (and only) death occuring at 29mins 31secs.

Double Target utterly eclipses anything that stands in it's way, never mind Rambo: First Blood, with a mind-boggling 1,071,716 deaths.


Double Target has an average of 8318.613 deaths per minute with the first death occuring at 1 minute and 13 seconds.




Double Target maxes out at 16,200 deaths in one minute

.
The film has a stellar cast and in particular of note is Z movie stalwart Donald Pleasance who gives a fine turn as asthmatic polititian Senator Blaster (yes, really). This leads me to some of the interesting trivia that has come out of this film, some of it is quite eye opening.
Apparently Donald Pleasance really wanted to star in Jaws and allegedly never forgave the director for not hiring him. A particular scene in Double Target features a shark. It's genuinely really well done too. The scene was filmed and included at the insistance of Donald Pleasance who then sent Steven Spielberg a copy of Double Target on VHS later on. "I mailed Steven a VHS of 'Double Target' for his birthday," he is quoted as saying in an interview, "and he was so jealous by our high quality shark and net effects!". You will also notice in the film that Senator Blaster coughs a lot throughout. Donald Pleasance said this was due to the amount of hairspray that Miles O'Keefe was using between takes.
A couple of other juicy titbits about the film here for you. Ernest Borgnine was supposed to star in it and dropped out. Also, there are no end credits in the film due to the publisher noticing the names of genuine real-life wanted criminals in the film who had key roles. There's not much more information on that so it's unclear quite who those people are. It's a shame too as I really like the song that plays over the black screen that is supposed to be showing the end credits. The song cuts off about halfway through and there's nothing left but approximately 2 minutes of a black screen. That's a real shame as I was hoping to track the song down.
Double Target has almost everything you'd want from a Z grade action film. The bad acting, the huge arsenals of weapons, helicopters, minefields, grenades, burning stuntmen, questionable on-set health and safety etc. It's all here for you to enjoy! I
love
knowing all these beautiful films are being dug out of dumpsters in Germany and being scanned with the care and love they deserve for everyone to enjoy and be preserved forever. I want to watch them all!
If you come across this film on your travels, give it a try. Here's the trailer to whet your appetite!