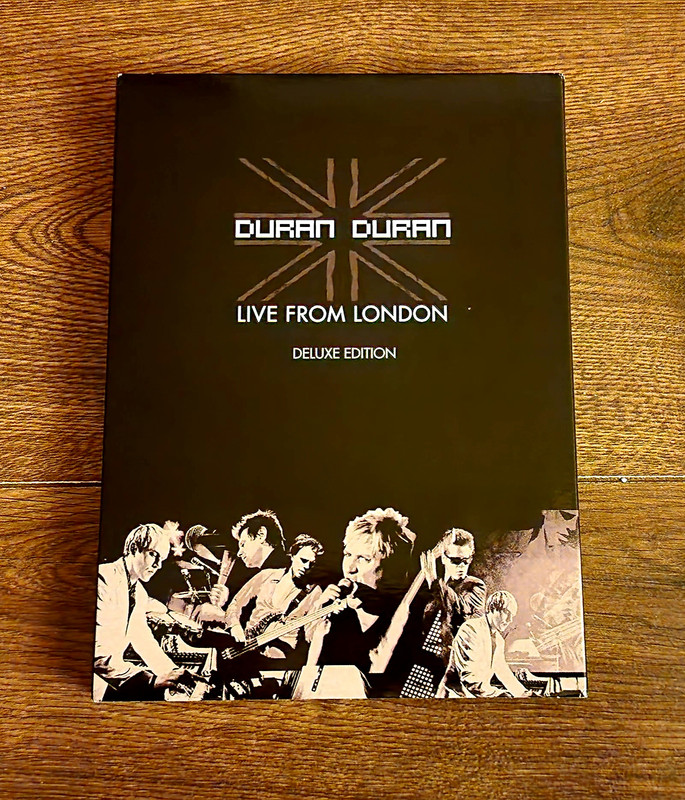 Say hello to your next forum-inspired impulse purchase! The Duran Duran - Live In London (Limited Edition) DVD/CD set!
I picked this thing up on a whim after talking with a friend about a Duran Duran concert I went to in London in the early 2000's. I couldn't quite remember if it was around 2000/2001 or slightly later. It eventually got me looking to see if the concert I went to was ever recorded and released on disc. The concert I went to was indeed recorded but was broadcast on UK television network ITV (it's on YouTube, go have a look if you wish, it's a bit Potatovision-ey though as it's old). This concert in the DVD set was also recorded at Wembley but came 4 or 5 years later in 2005 and was the first time the band played in their original line up since they split in 1985 shortly after their disastrous Live Aid appearance. The concert I went to was part of the Pop Trash tour which didn't feature all of the original line up.
Anyway, with that bit of back story done, I decided to buy this disc on a whim anyway, as Duran Duran are one of my favourites and are superb live. That I can definitely attest to.
I wasn't expecting much as firstly it's a DVD, so the quality in comparison to the high definition stuff we're so used to today will pale in comparison. I had no idea what the story was with the audio either. Was it going to be a lazy stereo track? A shoddy pseudo-surround mix? I had no idea. But sure it's only about £8 (10 Euro-ish) on Jeff's UK online monopoly store, so I took a chance and swiftly enough the DVD set landed at my door.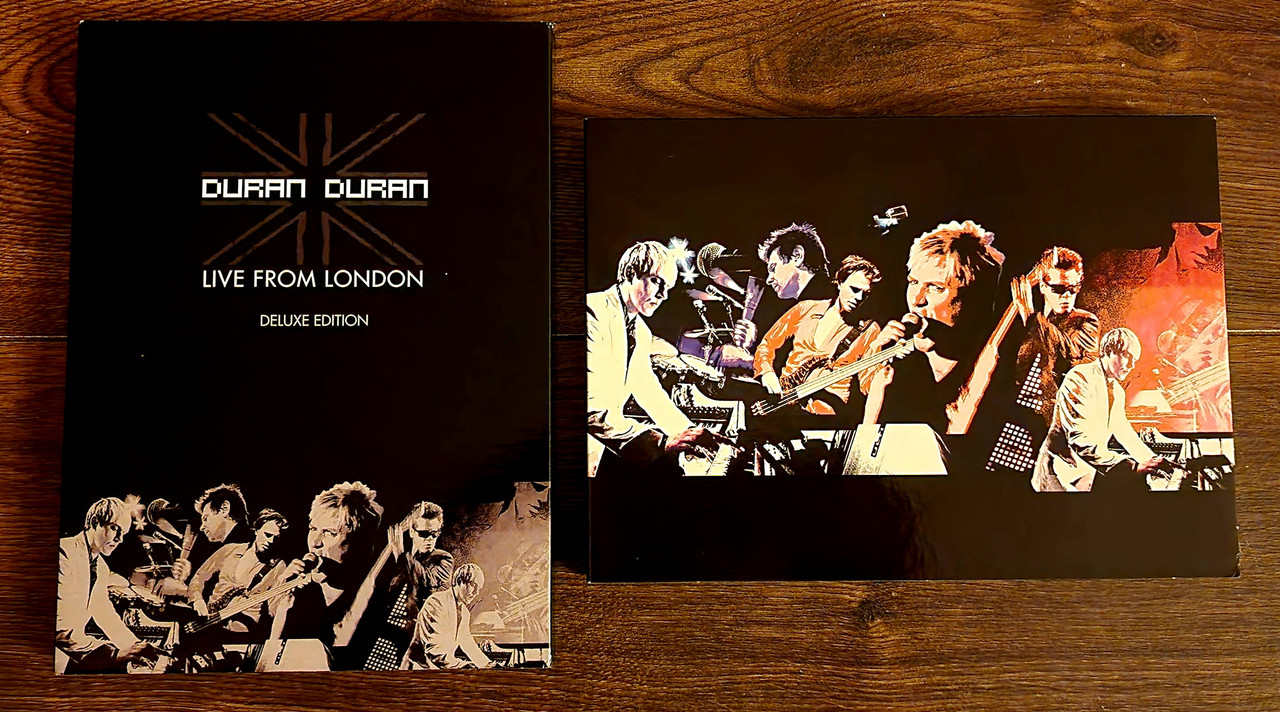 First thing I noticed is that it's a really nice 2 disc set. You get a DVD and a CD recording from the concert. The whole thing is in a horizontal fold-out digipak style, with a large pocket slip in the centre that houses a booklet with technical credits and photos from the concert. The booklet is a bit of a let down as I'm not sure if it's a technicial print issue or done on purpose, but the images look really low resolution and slightly pixelated. It could be for effect, if it is it looks crap. It doesn't matter though as there is a photo gallery on the disc that is far better and has a backing track.
Then came the first of many scrunchy-faced WTF IS THIS expressions. I looked at the back of the slip cover (it's also repeated on the digipak reverse) and saw THIS: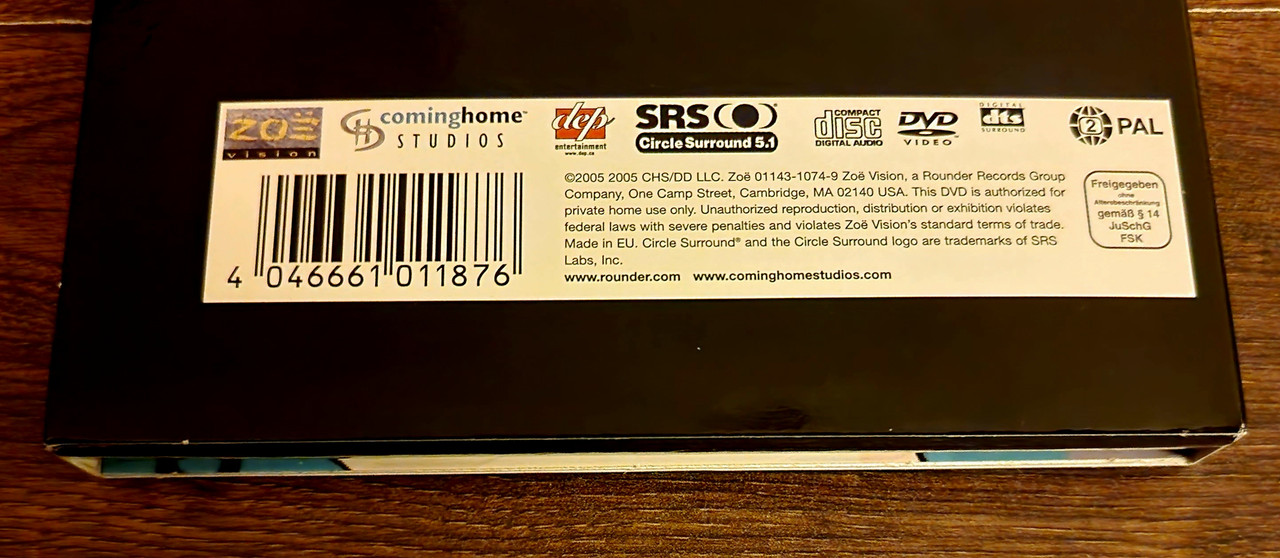 What in blazes is SRS Circle Surround 5.1? Isn't SRS sound that load of old pony they pack in on Windows laptops to pump everything up to 11 for a fake pseudo-surround effect that sounds really naff?
I had no idea what this Circle Surround was, and there isn't a great deal about it available online. What I DID find out though was that not only is the DVD encoded with SRS Circle Surround 5.1, but the CD is ALSO encoded in Circle Surround 5.1 too! I must admit, I've never seen the likes of that before. I had a look to see if I needed a special decoder or any funky equipment in order to play the DVD and CD back properly. From what I understand, specialist decoder equipment was available to buy at the time but is long since defunct now. HOWEVER, it is also able to be decoded matrix-style, in the same fashion as Pro Logic. Meaning that it will work with the likes of PLI, PLII, Neo 6 and so on if your AV receiver supports those formats.
I haven't tried the CD yet, but I did give the DVD a spin and watched it through along with all of the extras and I have to say that the SRS Circle Surround 5.1 track is night and day FAR better than the other options available on the disc. It's literally no contest, the difference is so apparent, and the results are spectacular! I bought a whole new sound system recently, upgrading from my old Yamaha SP-2700, to the flagship Samsung HW-Q990B (which is AMAZING is all I'll say). On the 990B it shows the SRS Circle Surround 5.1 track as Dolby Digital. You also get a Stereo 2.0 track, which is alright enough. But the other two tracks, a 'Standard Surround 5.1' (whatever that is) and DTS 5.1 both fall well short of the SRS Circle Surround 5.1 track. They both produce nice effects but sound a lot quieter. I don't mean by a small increment either, but a significant difference.
The rest of the disc was a nice surprise too. The menu system pushes the boundaries of what DVD menus were capable of at the time. Although crude by today's standards it's nicely thought out and all of it is animated. There's a nice menu for track commentaries which features the band in a static image. You go to select a track to listen to and one of the band members in the photo starts playing their guitar! Again, it's crude in 2022, but it's nice for it's time. One thing I wasn't expecting is a 3D section! Yes okay it's anaglyphic 3D so you will need a pair of red/cyan glasses to enjoy it, but in all honesty the results are excellent. It's genuinely really well done and definitely conveys a feeling of being on stage with the band. Definitely something I'd urge any prospective buyers of this DVD to try out so make sure you get a pair of red/cyan glasses as they don't come packed in with the disc set. Incidentally, the disc as a whole looks great upscaled by my UB-820.
The commentary tracks are great and do give good insights in to how the songs were written and also information about the concert design. For example in View To A Kill there is footage of a woman's legs on the big screen behind the band. Those legs belong to Elizabeth Hurley and were filmed by Nick Rhodes! For anime fans there is also insight behind the anime sequence the band projected on stage too as well as who designed and animated it. That's one of the things I like about Duran Duran of the past 20 years or so, they were always innovating and trying to do things slightly different. It didn't always work but when it did it was spectacular and regardless if it was or wasn't, it's great to see bands innovate and try and do new things all the time.
For the price this release costs, it's an absolute no-brainer purchase in my opinion, and if you're a Duran Duran fan then it's simply unmissable. I'd grab it while you can because it's possible once it's gone it's gone and I can't find a standard edition of this release for sale anywhere.
NOTE: Here's some good information I found on Circle Surround.
https://www.avsforum.com/threads/srs-ci ... on.202078/