Jedi Initiate

Joined: 30 Aug 2005, 15:38
Posts: 3048
Location: Pennsylvania
Has thanked: 20 times
Been thanked: 29 times
Hello all

Would anyone know if you could use a Pioneer VSX-27TX Receiver as an RF Demodulator?

I know you can use it as an RF Decoder with the internal RF Demodulator and 6-channel outputs, but it also has a TOSLink out labeled PCM/DTS OUT which I believe was mainly used for digital recording to MD/DAT/etc.

Would the demodulated AC-3 signal be passed through that?

Unfortunately, I currently do not have an LD player with an RF output with which to test this.
Attachments: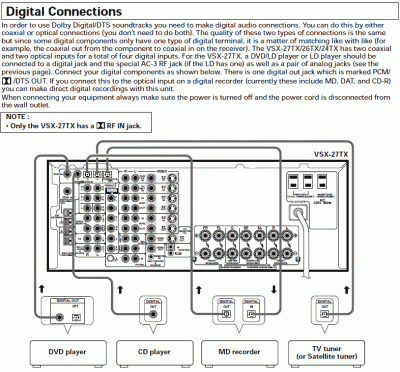 VSX-27TX.GIF [ 79.95 KiB | Viewed 669 times ]