More tat.
Picked up a small stack of used Blu's recently. A mix of 2D and 3D. In the pile there is Infra Man, I did come across it when watching The Oily Maniac a good while back now. Never got round to watching it but I will now. Then there's Lucky Number Slevin. I last saw this film at the cinema when it was first released and can't wait to see it again. It really is an excellent film and I think at the time it appeared in cinemas from absolutely nowhere and became a fairly modest hit. There's some conflicting views about which Blu is best, supposedly both the USA and UK releases have their strengths. I just want to see the film again for now and worry about the best release another day.
Next in the pile is The Amazing Spider-Man 3D. I got it cheap to go with the sequel, sure I may as well. Then there's Monsters University 3D and Monster House 3D. I haven't seen either of these before but hopefully they will be fun to watch. Just like Lucky Number Slevin, the last time I saw Prometheus was in 3D at the cinema when it was first released. I quite enjoyed it, I know many don't think it's that great a film but it would be a boring world if we all liked the same things. Time to watch Prometheus again soon... in 3D.
Last up is an oddity. No, The Polar Express isn't an oddity, it's a reasonably entertaining festive yarn from Robert Zemeckis. It's the 3D release that is odd here. This release is presented in anaglyphic red/cyan 3D and comes with 4 pairs of 3D glasses packed in with the disc as well as a lovely lenticular 3D slip cover! Maybe you have seen this particular release before? I certainly haven't and I'm curious as to how well the anaglyphic presentation will work. I think it's an interesting find and I'm keen to learn more.
Next up are 3 brand new Blu's, one of which I ordered to watch yesterday on Halloween but sadly these only turned up today. First is The Exorcist, the film I wanted to watch yesterday. This release is nice because although it's missing the third disc from the 40th Anniversary set, it costs about a quarter of the price. I wanted this for the original Theatrical Version from 1973, even though it's still been tampered with by Warner Bros in a couple of places. I wish they'd left the original WB logo in there on the header for example. I do actually own the now long OOP R1 DVD but I have no idea where my copy of it is. I bought it on release from the USA and to date that edition is still the only way to get the proper original print untouched (in the highest quality, the benchmark being DVD in this example over say VHS or Laserdisc et al). I'd love to the the original R1 DVD again but it probably costs a fortune now. My mislaying the disc is probably going to prove a costly mistake.
There's also Wreck-It Ralph 3D. Never caught this one in the third dimension, though the standard version was quite entertaining. I think it bodes well for a 3D presentation.
Last up in the new pile is the 1972 Donald Pleasance hyperfilm Death Line! This is one super obscure little horror feature, again I wanted to watch it as a double feature yesterday along with The Exorcist but it arrived a day late. This is one obscure feature and it's been lovingly restored from the original 35mm negative by Network! You also get a lovely untouched poster art print on the reverse of the sleeve along with a foreword by the team that found the negatives and restored them. There's a lovely booklet inside too that is packed with information and heaps of images sourced from a private collection of one of the film makers and seen for the first time along with marketing plans and newspaper clippings.
Network also brought out the Goodnight Sweetheart box set completely uncut (I think it's safe to coin this collection as uncut now because any future release will likely be censored, current TV broadcast repeats of it already are). They also did a wonderful job with the release of Wilt. I think that Network might be a boutique label (even though it seems to be in bed with ITV Studios so does it qualify as boutique?) that is overlooked, and a bit of a 'hidden gem' with a treasure trove of good content. To wonder so far off the track (excuse the pun) with titles like Wilt and Death Line (and The Piglet Files!) to name just a couple, shows they will really go to great lengths to not only trawl the archives, but to restore them carefully and lovingly. The Death Line restoration is simply stunning, especially considering the condition it was in.
Oh, and a fun fact from the booklet. Christopher Lee only agreed to appear in the film (and I quote) "...if I don't have to wear any teeth".
Okay then.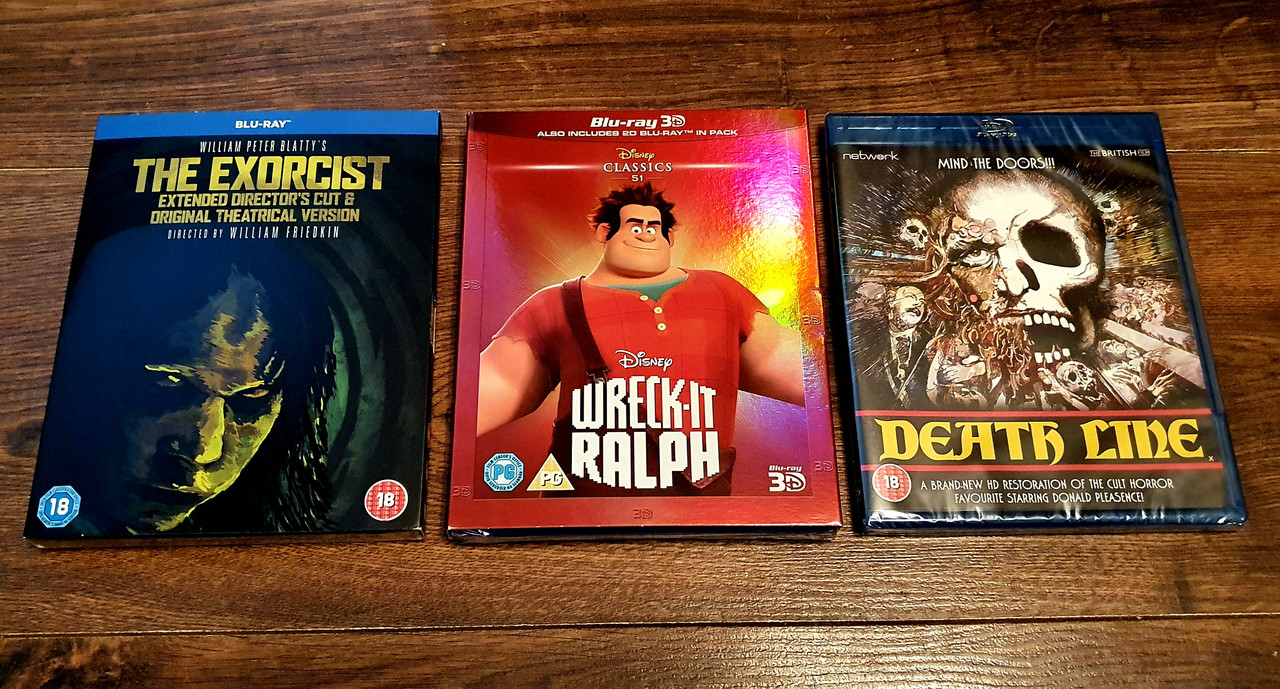 ...and finally. It only took about 68 years to arrive in the mail. The postal service said it was lost and that I had no hope of receiving said goods. But today, lo and behold a DVD edition of Lee Majors exospheric ultramovie The Last Chase finally arrived. It will sit very nicely on my shelf next to the 1981 VTC original big box gold VHS edition! The major difference here is that the DVD presents the film in it's original aspect ration and from a new scan. The VHS releases were all 4:3, including the CED too. It never appeared on Laserdisc to the best of my knowledge.
The best part of this whole deal is that this disc isn't faulty. When Code Red initially released the DVD they recalled all the copies due to a mastering issue that messed the audio sync up apparently. A corrected disc was released but not many copies made it out to the wild (as far as I am aware). This is a correct disc from what I've seen by scanning through it. The DVD release is long OOP and is considered very rare. It doesn't come up for sale often and prices vary wildly. The most extreme price I've seen was just shy of CA$900 but usually it goes for around $100-$200.
I still hope that a Blu Ray may be in the works. I hope...