---
I'm only working on NTSC decoding right now, so the PAL test cards aren't much help yet. I don't have any test card samples for an NTSC signal. I tried to capture a generated one from a test ROM for the Mega Drive via the composite video stream today, but I had trouble getting my test machine to cooperate. A straight composite signal isn't in the right range for the Domesday Duplicator analog input, and cdaxc kept on dropping samples randomly for some reason. It's worked before, so I'll have another try later. I should be able to get something usable out of it.

About a million bug fixes later though, and I have something that's vaguely in the region of viewable: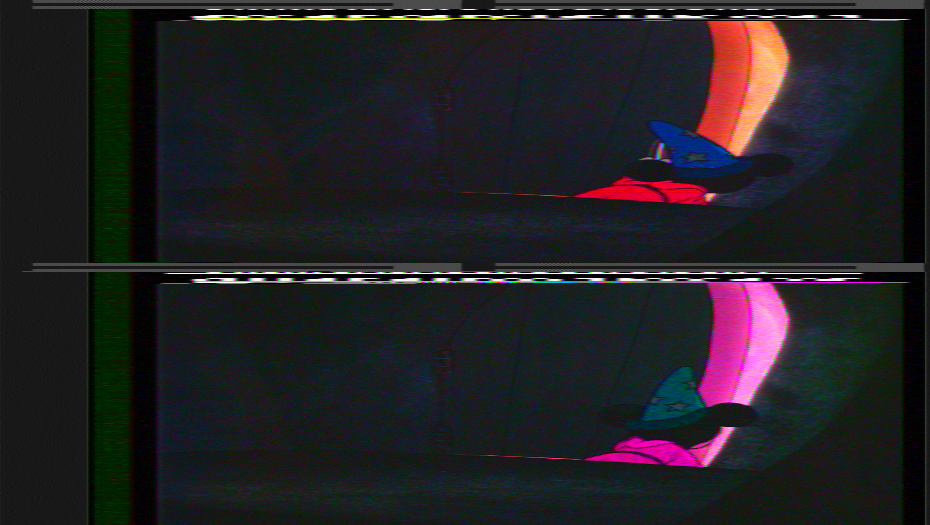 What I'm discovering is that phase locking to the colour burst is hard! I underestimated just how sensitive it would be. The slightest variation and the hue goes off in perceivable ways, but from the RF the signal isn't even regular, and captures from consoles and other equipment I have which generates composite video shows they have their own problems and idiosyncrasies, from field timing that's off NTSC spec, to colour burst waves that look more like triangle or square waves, with length and position wildly varying. Analog receivers cope with them all though, so you can't just go by what the specs say, the software needs to at least be able to cope with anything an analog set could have thrown at it, because there's a kaleidoscope of "incorrect" signals out there that work anyway. I'm trying to write software which can adapt to all this, but writing something that's adaptive and tolerant of signals that are generated off-spec, while still pulling in imperfect signals which aren't regular back into conformity so the image is stable and correct, isn't an easy task. Underlying all this there's the loss of information problem, in that as soon as we quantized the analog waveform we approximated it, and even with good interpolation techniques, it's never quite as easy to derive precise, accurate information about the true frequency of a waveform, or the exact points at which it crosses certain thresholds, as it is to build an analog circuit which naturally derives that information in a precise, adaptive, and near perfect manner from the true analog waveform.

I can see I need to take a good look at the TBC issue again, and separate it clearly from framing. I need to first of all decide what the "correct" timing appears to be for the video stream, then use that information to perform TBC to force the input signal into conformity to that, but without distorting the hue mid-line by stretching or compressing the signal inappropriately. You've got a damn near perfect process working for that already happycube, but for a limited range of input signals. I'm going to have to spend some time planning an alternate approach here I think, which can achieve the same great result you've obtained, while making it more adaptive on the range of input signals it will accept. I might start by grafting in your existing comb filtering code into the back-end of my video decoder, so I can use a mature colour decoding process, and focus on making the input to it more flexible and adaptive. Once I've got that process getting a result on par with what you're currently achieving, but with a wider range of signal support, I can focus more on the colour decoding issue itself. Even without further work though, at that point I think it'll be up to task for a lot of things I'd like to use it for.