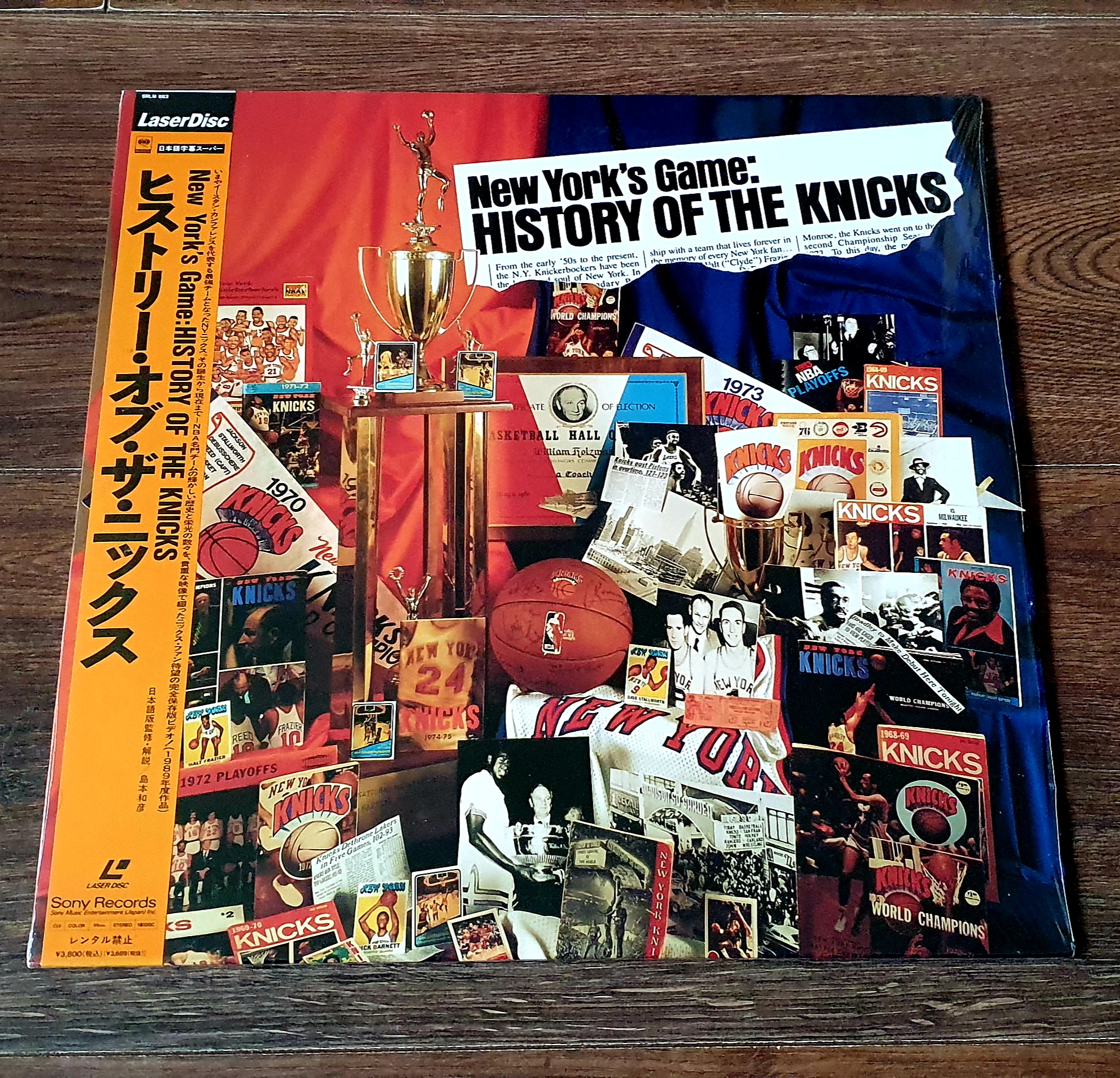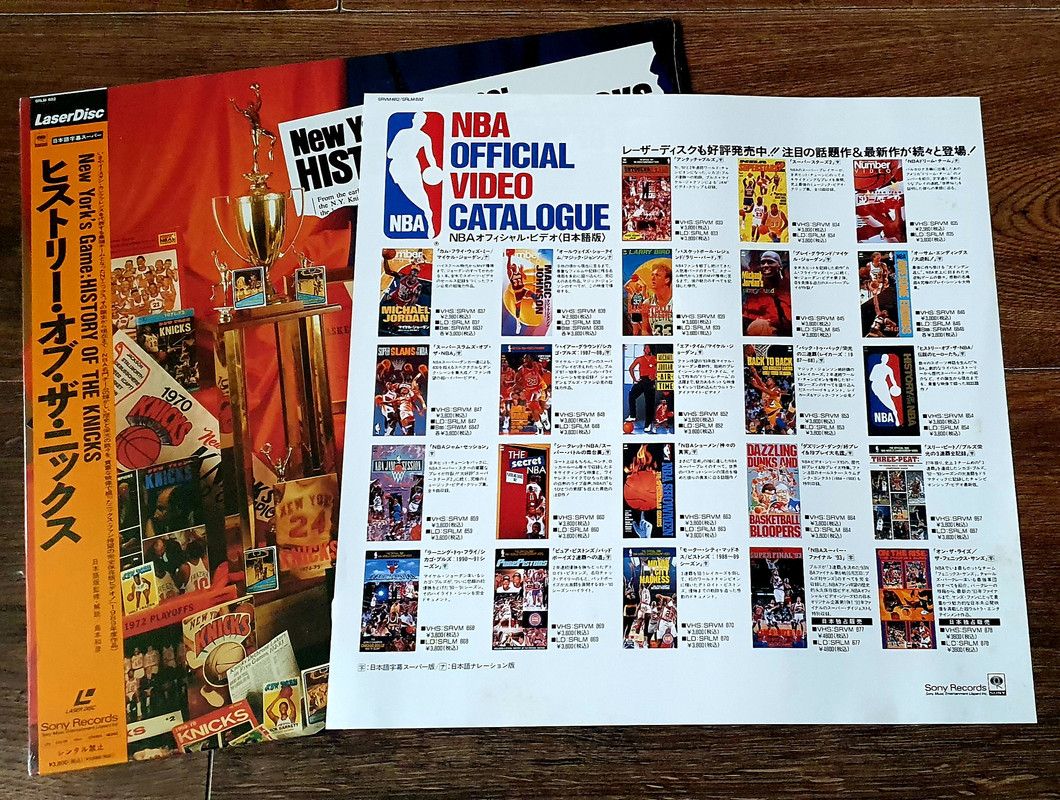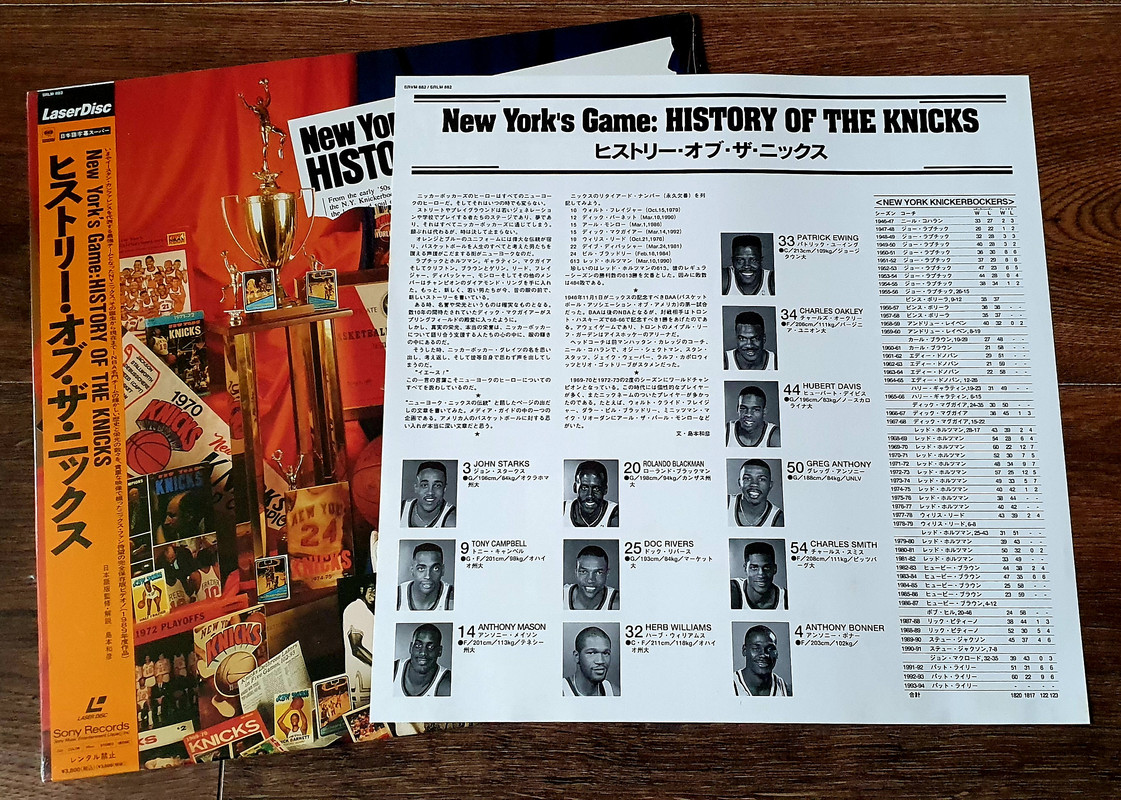 LDDB URL:
NBA: New York's Game - History of the Knicks (1989) [SRLM 882]
Growing up I wasn't ever really interested much in basketball. It was alright I suppose. You'd play a bit in P.E. at school and hear scraps of information from a friend of a friend who's dad came back from a business trip to America, happened to go to a game and maybe gave their children a Lakers jacket and a signed photo of Kareem Abdul-Jabaar or something that was then brought in to school to show off to the other children. Oh and I had a Lakers jacket at some point as a kid. It wasn't from America though. It was off the back of a lorry along with a tub of moody TAG's and Harry Vitton wallets (Harry was Louis's brother apparently). That was about it though.
In my school circles if you were going to follow any American sports it was American Football (aka "rugby for wimps") and Baseball (aka "silly boys rounders"). You randomly picked a couple of teams and that was it. For me it was the Giants, the Rams and the Mets. When EA's hockey games made their way to the Super Nintendo I would throw the Sabres and Leafs in to the mix. But basketball? Nah, not for me. I think it was around the time that White Men Can't Jump and NBA Jam became really popular, the basketball craze that followed was when I started to watch the game a bit more. Back then it was all about the Chicago Bulls and the Los Angeles Lakers. Michael Jordan, Scottie Pippin, Shaq and so on. For me though, I went back to the Big Apple for my NBA team of choice. And there was only one main dude with the 'tude that I thought was an utter legend. A man who was the real deal but amazingly never won an NBA Championship.
A defensive colossus in the NBA for the New York Knicks and Hall Of Fame inductee in 2008! That man was Patrick Ewing!!
If I was going to support an NBA team, it was going to be a team with a player who could not only score a swish but could also crush your head like a paper cup and shell your testicles like a couple of holiday peanuts!
Since the turn of the 1990's to today I've always followed the New York Knicks (even had tickets to see them once at the Garden but for one reason or another didn't get to go) and have been keen to learn a bit more about their history and some of their star players, titles and awards. It's great to have been given a pointer from a fellow LDDB member that a Knicks title exists on Laserdisc. Even better is a title that isn't just a clip show but a history of the team up until 1994. That's what you get with this 58 minute, 4:3 ratio, stereo documentary.
The documentary itself is somewhat briskly paced for it's 58 minutes considering it covers the history of the New York Knickerbockers from 1946 through to 1994. It's shot in one of the 'talking heads' styles that are popular today on many networks, not just sports coverage. The bonus here though is you get some great interview footage with some of the greatest players ever to have worn the blue and orange shirt, including the great man Mr. Ewing himself. I particularly enjoyed hearing from coaches and players like Red Holtzman, Willis Reed, Nat Clifton and the Maguire brothers and so on. There's some real greats interviewed here and it's really interesting to hear their stories. I also enjoyed hearing views of what it was like to play at the old Madison Square Garden and what it was like attending a basketball game back in the 1940's and 50's.
Archive footage featured throughout the documentary is a mix of colour and black and white and from both film and video sources. It's not just just tedious clips of past games though. You get a mix of broadcast material, behind the scenes moments and some great coaching videos during more high pressure moments in the team's history. Picture quality on this disc overall is remarkably good. I expected it to be much softer as it appears to be a video transfer, the same likely used for any VHS retail release that there may have been. Imaging is fairly crisp and sharp, especially the older film footage from the 1960's and 70's. Audio isn't anything stellar but is just a nice stereo track with decent separation and minimal noise, even on the oldest footage. Nothing to write home about in terms of audio, it's just what you'd expect from a quality broadcast.
I learned a lot about the history of the Knicks from watching this documentary. Heck, you've probably already seen it years ago on ESPN or something. The only thing I was slightly disappointed with is that the main man only appears for about 7 minutes towards the end. Of course back then he was only around midway through his career but I do wish he was featured just a little more in this documentary. Regardless, this is a great watch for any basketball fan keen to dig in to the history of a team and see some great archive footage. Well worth picking up if you can find a copy cheap.