Titan A.E. [PILA-3043]
Well, according to our database, not so many people own this disc, so I thought it could be a good idea to try to review it.
Luckily for me, I was able to buy it from Julien in 2004, for the "small" amount of $145. Seemed a lot back then, but when
we look at the price evolution, it wasn't so bad after all.
Even if it crossed my mind a while ago, I'm absolutely sure I'll never sell this LD. And that for multiple reasons:
- I have other ways to provide food for my family.
- It is a hard to find item. I was lucky Julien needed a few bucks back in 2004.
- It has a beautiful cover, with the "new" Pioneer logo on it.
- It has one of the best picture quality available on LD
- It has a powerful dolby digital soundtrack
- It's a great film, with a good replay value
- It has Close Captioned encoding... which means much to me
The Movie
Like it or not, it has an interesting plot, good characters (Young hero, pretty girl, ugly team mate, a few traitors, etc...),
a few twists and an unforeseen happy ending.
The LD itself
The cover is really nice. The orange obi matches it perfectly.
Pioneer Japan & 20th Century Fox have had a good taste at the end of 2000.
The back looks also great, although I cannot read Japanese, it's still a beautiful item.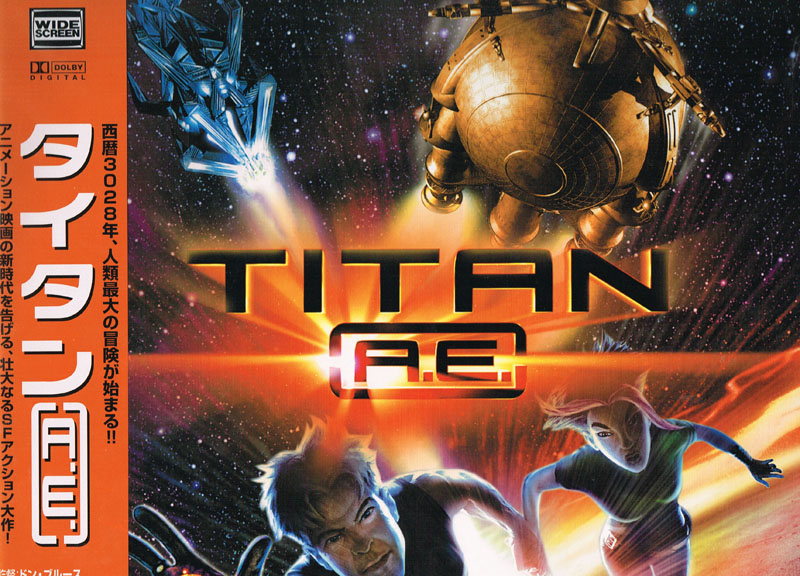 Video
I've tried to do some screenshots... but I'm not very good at it, so the result here is a bit disappointing
regarding to the quality of the picture on my TV screen. But it gives you a small idea of it.
As many other japanese release, Titan A.E. has japanese subtitle in picture, and a close captioned signal.
You can see on some of the pictures, that it's not always so great, as the CC mixes up with the japanese subtitles...
It is sometime not quite readable, but at least it's here. I guess it also depend on the possibilities of your CC decoder.
I would have loved an LD-G encoding, it would have been a plus.
The picture quality of this LD is great. It makes me wonder how good would a movie look, if LD was still produced,
with modern day transfer technologies. I'm not an expert in ways to explains how good a picture looks like, but I can
say that when I first played this disc in 2004 (it was on a DLV-919E back then) I was surprised how clear the picture was.
Today, on my HLD-X9, it looks even better.
Audio
I've just noticed that in 2013 but the 1st chapter of this LD, with the 20th Century Fox Home Video Logo,
has a silent Dolby Digital Soundtrack. This LD release has also no Dolby Digital intro.
Other than that, it's a real "old fashioned" Dolby Digital Soundtrack that goes smashing and banging through the living room.
Enjoyable from the beginning to the end, it keeps us "in" the film, and helps us believe in what we see.
For example, the sound of the icy ring "icebergs(?)" colliding into each other is so good, you'll want to push the volume UP!
Overall
I enjoyed watching it again to do my first LD review, and I'll surely watch it again this year.
We're lucky to have this film on LD, sadly not enough copies for everyone. It's a great item to show off
with your visitors who have only known VHS & DVD... and I've got plenty of thoses