Watched a great little film today called Shin Dousei Jidai Hawaiian Breeze.
Lifted from my diary if you wish to read some drivel.

=======================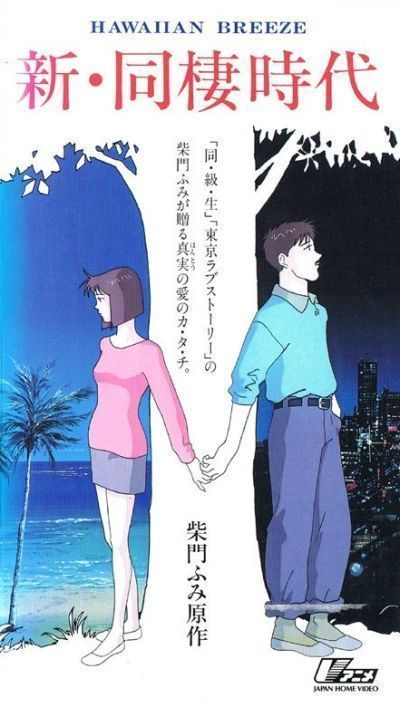 For the life of me I've no idea how I stumbled upon Hawaiian Breeze but I'm glad I did.
It's a simple story about a couple together two years. Peter wants to start a family, his girlfiend Eri is purely focused on her career and has no interest in further busying her life. It's as straightforward as that.
It may not sound like the foundation to a groundbreaking feature film but be assured that Hawaiian Breeze is a resounding success.
I love productions that centre on one location for the entire run time. The layers of complexity that are required by them to hold enough interest, when executed right, are almost enough to make any feature a triumph in my opinion. Hawaiian Breeze focuses on the apartment Peter and Eri share, with the rouse that Peter is the house husband and a work from home illustrator too.
I found it refreshing that the male lead was the domestic, stay at home character. Hawaiian Breeze could have easily reversed this and it would probably not have had as great an impact on the rest of the story.
You'd be forgiven for falling in to a couple of easy traps as the film progresses, I certainly found myself apologising to the film as it began to take a sharp detour from processional fodder. And it is this detour that proves to be the ace up the sleeve of Hawaiian Breeze. I won't spoil it for you, lest I merely add that the conclusion is brought to a good, if an ever so slightly predictable one.
There were a couple of moments where my face almost made contact with my palm, and some pieces of dialog and Peter's actions played back today are a little questionable, but upon reflection are actually fairly brave stuff by the director.
I thoroughly enjoyed the subject matter that Hawaiian Breeze openly tackles. It's done in a fairly tasteful manner; cultural differences are blurred somewhat in it which makes the film more appealing to a wider audience.
Visually it's not a AAA epic on a Ghost In The Shell or Akira level. It's appealing enough with some lovely muted, pastel tones that are a compliment instead of a turn off. The voice acting is fairly impressive too, the heated moments especially. You can clearly tell corners were cut, possibly to meet a budget or perhaps some scenes are a little rushed. These moments let the film down a bit but the rest is so nicely put together that you can forgive it's simpler moments.
Coming in just under 50 minutes it is all over fairly quickly. There's a couple of avenues that could have been taken to stretch it out to 80 or 90 minutes but I feel it would have been unnecessary and probably ruined it.
Hawaiian Breeze is a fantastic,obscure little gem. Seek it out and pop it on your watch list.
Oh, and stick around for the end credits. The images are a nice touch and relevant subject matter. One of the images certainly made me chuckle out loud too. You'll know which one I mean.