Sony HMZ-T1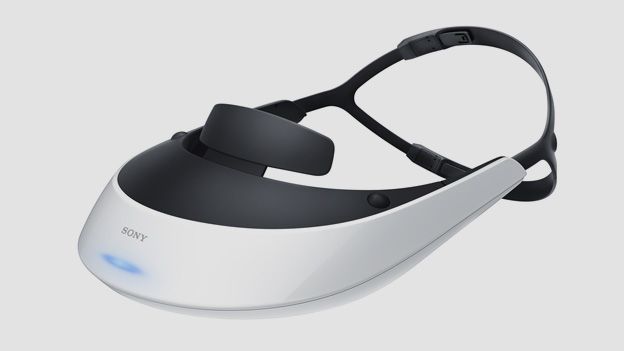 Sony HMZ-T2
Sony HMZ-T3
Overview
I know of at least one other person on LDDB forums that has a Sony HMZ-Txx device (and they unknowingly made me buy one). With the right setup you can feed your Laserdiscs in to the HMZ-Txx device for a nice cinema experience without the expense and faff required for a full projector setup, especially for 3D!
There are 3 main revisions of the Sony HMZ. The HMZ-T1 and HMZ-T2 which use the old blend of toilet seat meets Atari Jaguar CD design aesthetic, and the HMZ-T3 which offers a full redesign and looks less... 'toilety'. The HMZ-T3 also comes in a wireless flavour as the HMZ-T3W, meaning you canconnect an HDMI or MHL device directly to the battery pack without the need to be tethered to the video processor under the TV. You can also take it on the road with you. A couple of other differences are the HMZ-T1 has permanently attached earphones. These were removed for the HMZ-T2 and HMZ-T3. More importantly, the HMZ-T1 and HMZ-T2 can decode a limited number of audio tracks. Whereas the HMZ-T3 adds the benefit of DTS-HD-MA, Dolby Digital 7.1 and so on up to, but excluding, Atmos and DTS:X. All of the units come with Sony's 24p True Cinema Mode, which is a godsend!
If you are in the market for an HMZ-Txx device I would suggest going for the HMZ-T3 or HMZ-T3W if budget allows. This way you get the benefits of wireless connectivity and the almost full suite of audio capabilities. One other word to note; while all of the devices house twin OLED displays, try to import a Japanese unit if possible as the OLED displays used in these units are reportedly far superior to what Sony installed in all of the units sold outside Japan. I think this specifically applies to the HMZ-T3 (if I can dig out the link again I'll post it here).
A word on installation and comfort. I haven't used the HMZ-T1 or HMZ-T2 but hear they are notorious for skullcrushing 'comfort'. You may want to investigate comfort mods for these devices. The HMZ-T3W is fairly comfortable but you need to ensure you get the fit just right. It took me a couple of weeks of experimenting with it to find the fit best suited to my mallet. A note as well on fitting the device. I find if you push the top adjustable band all the way forward, slide the device on to your mallet and then take hold of the top adjustable band and hold it like a shopping bag carry handle, you can then adjust either side of the band a little before lowering it down. I find this method saves a lot of fiddling. I've had no major comfort issues with the device now since finding what fit suits my mallet best. Everyone is different so keep trial and error in mind if you want one of these devices.
3D Laserdiscs
I have tried the HMZ-T3W with a variety of 3D Laserdiscs that each use different methods to deliver their 3D or immersion gimmick. Some just work straight out of the box. The HMZ-T3W has a cool auto-detect feature to apply the correct processing per the 3D image it detects e.g. SBS, OU etc. A couple of discs use the Red/Cyan or Red/Green 3D and you will need to use the supplied 3D glasses that came with your disc along with the HMZ-T3W (if you want to watch your 3D Laserdisc in a virtual cinema!). It can be a bit of a fiddle to get the headset on over a pair of traditional paper 3D glasses, but it is manageable. Once installed you should be good to go. I am thinking of making a pair of modified, trimmed down glasses for such discs. The same applies to discs that use Refractive 3D (e.g. Virtual Drug, Mind Control etc).
One thing that should be noted, the Virtual Drug discs already look great on a standard large screen television. Ramped up to a large cinema display they are absolutely superb! The Virtual Trip discs also look great blown up to cinema size with their special '3D audio' tracks.
'Standard' Laserdiscs
To get Laserdiscs to play on the HMZ-T3W I run my Laserdisc player through a DVDO Edge and let that handle the pulling, stretching and general fiddling of the image with whatever trickery DVDO uses in order to splatter itself all over the HMZ-T3W displays. The Sony device adds in a nice bonus though of applying a gentle curve to the output image, or for the devoted cinephile you can apply a whopper Cinemascope curve to the display. If you want neither you can just switch the effect off. Regardless, Laserdiscs look great on the HMZ-T3W. Lots of fun and a more immersive experience!
HMZ-Txx Resources
Here's some useful stuff you might want. Note that the HMZ-T3 and HMZ-T3W units sold in Japan ship with Japanese language menus only. There is no way to change this. The menus are not hard to navigate anyway.
Firmware updates and tools
Looking at the service manuals, it appears there is a firmware update tool and also a system reset tool amongst other possible features. Maybe a way to flash English (or other) language firmware on to a Japanese device?
Firmware details are as follows (and done over a COM port link)
Service Jig Tool is provided by named HmzServiceTool1100zip.
*Unzip the files to any folder on your PC first.
JIG name:HmzServiceTool.exe
Version:1.1.0.0
*Contents:
1. HmzServiceTool.exe : Body of JIG Software
2. HmdWriterDll.dll : Library dll of JIG connection
3. HmzServiceTool.ini : Command definition statement
4. HmdWriter.exe : Firmware writing software
5. HmdWriterResEng.dll : Convert display to English
6. Inf folder :
hmdcom.inf :Device driver for 32bit Windows
hmdcom64.inf :Device driver for 64bit Windows
Service Mode Menu Code
To access the service mode menu perform the following steps (HMZ-T3x Only. Not tested on prior versions):
1. Press [MENU] button on the Head Mounted Unit to enter the MENU mode.
2. Press five buttons in order of [↑] → [↑] → [↓] → [↓] → [→] while holding down the VOL[ -] button.
3. Release from the VOL[ -] button.
4. Menu indication is replaced by a SERVICE MODE MENU.
Command
off : No action
+1 : Bright dot , Dark dot pattern A (Inside black)
+2 : Bright dot , Dark dot pattern B (Inside white)
+3 : Raster image red
+4 : Raster image green
+5 : Raster image blue
+6 : Raster image white