Hello everyone !
My TV finally died last month, and I had to think about a new way to see movies. I didn't want to buy an other LCD,
or fancy OLED screen, as it will propaly die again in some years. Recently the TVs are very beautiful in the show window.
Colors and contrast are superbe, they does 4K etc. But after some years, burns appears, whites are becoming yellow,
pixel dies... and the worst is when it dies, you still have a big black pannel not recyclable until you decide to pay again
to trow it in the apropriate place. Then I decide to not buy a new TV, but a Video Projector ! Advantages are great !
No more heavy black TV, a screen of 80 inch, no more NHK TV tax to pay !!! lot of advantage !
But it took me a lot of time to choose a projector and install it.
OK, let's start reviews ! (it can maybe help those who search for a good projector for LDs)
First, just to clarify : Both projectors are around the same price ($2300) and are not native 4K. HU80KS does false 4K, EH-TW8400 does 4K enhanced.
Both use the 4K source information to recreate a "4K close" image. Both are good for doing it (you can clearly see the difference between a BD and BD UHD on it), but they
also are very good in the field of 1080p. Then, if you have lot of low resolution discs (LD, DVD, BD), I think they are both a better solution than a native 4K.
But, yes, if you have only 4K UHD sources, and more money, you can get a native 4K Sony for twice the price of these.
LG HU80KS (HU80KA in other countries)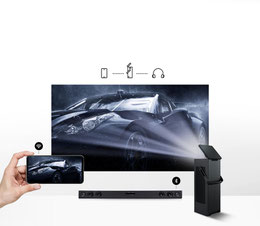 After seeing it at Yodobashi Camera, I decided to buy a LG HU80K. The render was fantastic with any source.
But after some hours of testing, I had to resolve myself to sell it back, for the next reasons :
- First, the projector isn't designed for small rooms, even it it claims it. Because the lens adjustement doesn't
offer enough settings. Only a mirror, and a 1.2x zoom. Then I could neither place it on the front of my sofa
(too close from the screen), nor behind the sofa (too far from the screen)...
- Because of the lack of lens shift, I had to use the keystone option. I didn't like the affect of keystone :
a trapezoid of light were projected above the screen.
- Finally, and this is very important experience for those who would like to by this model : This is a DLP projector.
I thought that DLP technology was advanced enough to not be bothered by the rainbow effect. The HU80K picture
was very very beautiful, but rainbow effect was clearly present, and I felt really bad (headaches, eyes tired) after
watching movies more than 1 hour.
LG HU80KS : 7/10
+ Silent
+ Very beautiful resolution
+ Easy setting
- DLP technology (rainbow effect / eyes tired / headache)
- No lens shift
- Zoom range (only 1.2x)
- Too much visible Keystone
EPSON EH-TW8400 (EH-TW9400 in other countries)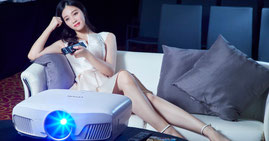 Then I decided to sell my HU80KS, and buy an Epson EH-TW8400, a 3LCD projector in the same range of price. I was
surprised, after the LG experience, to see so much option of lens shift with the Epson. I could place it behind my sofa,
and set it perfectly to fit the image on the screen !
The image is a little bit lower in resolution than the LG (4K enhanced instead if False 4K for the LG), but all the sources
from LD to BD UHD, give a beautiful render. And bye bye the rainbow effect, and other bad effects from DLP.
I think my eyes are very sensible, and 3LCD is soft and fit perfectly to me.
There is ton of options to get a good picture, and i am still trying lot of different configuration.
The best setting I get until now for laserdisc is :
for movies :
LD player -> Lumagen 4K out -> Projector 4K enhanced, cinema mode.
for animation :
LD player -> Lumagen 1080p out -> Projector 1080p, soft animation mode (only possible on 1080p), cinema mode.
The image is far better than all I could get before with TVs or LCD screens with laserdiscs. I don't know why, maybe
it is the projection effect, but all the flickering are gone, even in lumagen deinterlacer in "video mode", for every movies.
As I can use lot of interesting effect with the lumagen in this mode, or "auto mode", I use no more "movie mode" (too much
chance to get interlaced lines during the movie).
EPSON EH-TW8400 : 9/10
+ Soft and clean image
+ lens shift
+ lot of parameter can be setted
- fan noise (but my LD player and my lumagen in 4K mode are louder, then I don't mind)
- soft animation mode only on 1080p
My setup pictures :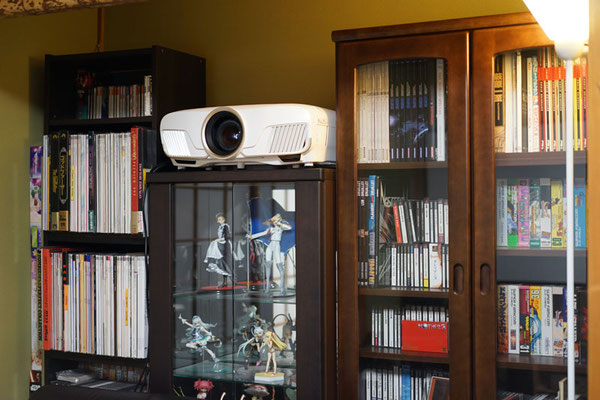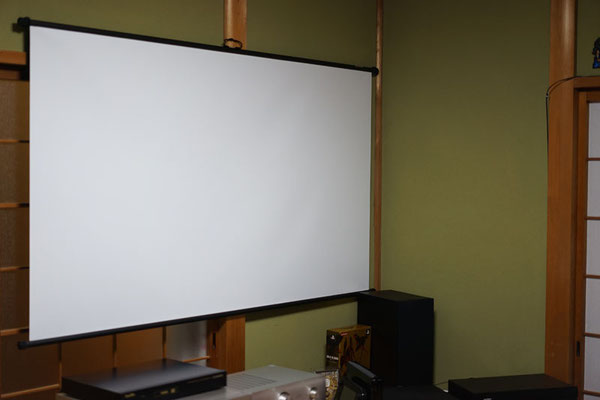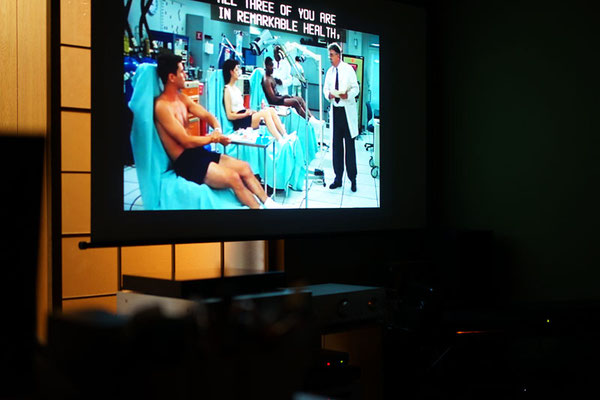 The last picture is a projection of "species II" in LD, Japanese version, with english close caption.