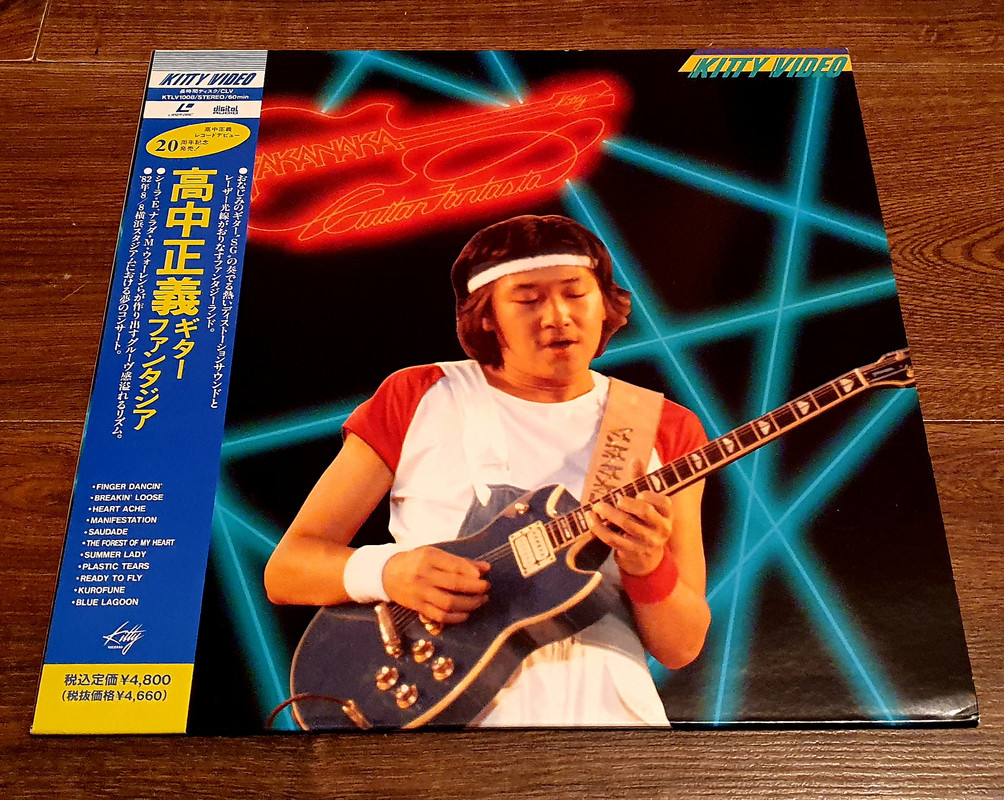 Masayoshi Takanaka: Guitar Fantasia (1982) [KTLV-1008]
Having received this disc from Japan today (complete with microscopic crack) I couldn't wait to try it out. Has the elusive search and the wait been worth it for this 1991 release of the 1983 disc of a 1982 concert? Read on to find out. Note I have covered the 1983 pressing in detail at the following link, so please do take a look there first to get up to speed if you wish to:
https://forum.lddb.com/viewtopic.php?f=41&t=9419
-----------------------------------------------------------------------------------------------
So here it is. The elusive Digital Audio edition (or Digtal according to the obi strip) of Masayoshi Takanaka's 1982 concert Guitar Fantasia and the first thing we're going to look at here is the back of the sleeve. There's some aesthetic changes here. The same concert stage photo has been used but instead of being at the top half of the sleeve it's now on the bottom. The drop shadow colours around the band portrait photos are gone and just simple borders around the photos (still the same colours). There's a spelling mistake too noting that 'songs' are now 'soongs'. The small print appears to be the same. With this release an obi strip is present which declares that the 1991 pressing is a 20th Anniversary celebration release of the original concert recording from 1982 (and released in 1983 on Laserdisc and VHS).
What about the disc? Well, this is a biggie. The original 1983 pressing I have is a 2 sided CAV disc. This 1991 release with the Digital Audio track is only a 1 side CLV release. Yet both discs run at 60 minutes? I'm not quite sure how that was acheived. Anyone know? Better compression algorithms perhaps? Well whatever it is, Side 2 on the 1991 disc is now blank.
Now for the big change. Originally the 1983 disc and it's subsequent pressings were analogue only. This 1991 edition now features a Digital Audio stereo track. But does it make a big difference to the original release? Honestly? I don't think so. I also think that the audio sounds a little more busy, like it's struggling for space, for width and power. Comparing it to the 1983 disc and I genuinely notice a difference. The 1983 disc sounded more open, with more range to the sound stage. It's not a night and day difference that will unite galaxies and change the human race forever, but it is there and it is noticeable in my opinion.
Picture quality is the big one for me, and I think it may be down to this single side business. To me and my very humble opinion, I think the 1991 disc is a lot softer than the 1983 original. Perhaps it's a mix of compressing it all to one side but also the age of the master source perhaps? 20 years is a long time. Looking at the original disc it doesn't come up as quite so faded or soft. Both discs do have a little noise to them but it's nothing too bad. In the picture department there really is a difference and the winner is the 1983 disc imho.
So which disc do you get? Well I suppose it comes down to getting whichever disc shows up first. You tend to need to be quick buying it once it appears as it tends to sell fairly rapidly from what I've seen. Failing that, if you want to hold out and pick the right disc, and if you are putting a bazooka to my face and forcing me to choose one, I would pick the 1983 disc unless you absolutely MUST have the Digital Audio track. As said, there isn't much in it between the two, but owning both discs and in other folks cases they will likely want to own just one release and taking in to account the expense of importing, I say go for the 1983 Kitty Video original disc. The picture is superior and the audio, while a close run thing, is the important factor here for a music disc purchase. Why have just 50% of something when you can have the whole shebang?
The 1991 disc isn't bad, though the whole 1 side thing troubles me deeply and I can't shake it. Just having seen both I can't really formulate a case for getting the 1991 disc. Maybe it will sound better on your setup, maybe it's just me and my hearing? I don't know, but I do know what I like and it's the 1983 Kitty Video disc. So if forced to choose if my life depends on it, I choose that one. In total honesty though, just get whatever shows up and be happy you snagged a copy. Crank up your sound system and enjoy it!