Here's an interesting page I ran across:
http://www.geodatasys.com/cldv.htm
Showing several industrial series remote/unit pairs:
CU-V113 (aka DXR1036) Wireless Remote & UC-V109BC Pen-type Barcode Reader for CLD-V2800, CLD-V2600,
CU-V113 only listed for the CLD-V2400 & CLD-V2300.

With this description:
Barcode Reader & Remote Control
UC-V109BC
(for Industrial DVD and CLD Players)
This affordable pen-type scanner for Industrial LD & DVD players is slim, lightweight and easy to use. Simply trace the light-tipped end over the barcode, while holding the "read" button, allowing instantaneous access to any frame.
Also a basic lightweight wireless remote with pause, play, scan, still/step and skip button controls. Functions with most Pioneer LaserDisc and DVD players, including Home Entertainment models (barcode functions only with Industrial/Educational LB2 players).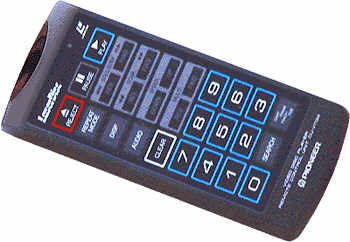 With this description:
Pioneer Industrial Wireless Remote Control
DXR1036 (aka CU-V113) for CLD-V series
This large button, membrane surface, durable remote is for use with most Pioneer CLD industrial players, particularly the CLD-V2400, CLD-V2300D, CLD-V2600 and CLD-V2800. Primary functions are clearly marked and easy to use: Play, Pause, Stop, FF/FR, StepF/R, Search, Repeat, etc.
RU-V103 for LD-V series
Note: "REJECT" button functions as "STOP", does not open disc drawer.
also see UC-V109BC: Pen-type Barcode Reader
(functions as basic light weight Wireless Remote Control: pause, play, scan, still/step, skip)
...may be more in some of the site's other links.