LD-X1 Review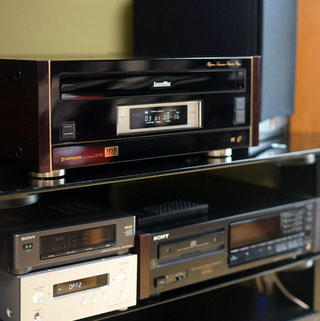 It took me one month to get a prefect working LD-X1 and lot of money.
First, I did a bid on Yahoo for a superb version of the player : absolutly
no tears, no scratch. With the original box, remote control, and manual.
And the big, very big thing is the official RF-AC3 mod added by MSB. It
costed me 750 $.
The bad news were that image quality was far from perfect. Lot of artefacts
and waves.
One month after, I decided to call Pioneer to take care of my player. Today,
the King has returned ! it came back in perfect working condition ! It's third
time I use the service of Pioneer. I have to say that the technician I met each
time is really professionnal. We had some discussion about LD players, and
Pioneer great days (longtime ago...). It costed me 200 $ more for reparation.
Problems came from old condensators. He changed it. He also changed all the
grease, and belds. The player should work for years without problems now !
Review : (you can find it also in my site :
https://retro-visual.jimdo.com/laserdisc/ld-players/
)
Brand : Pioneer
Release : 1989
Media : Laserdiscs, Single Side
Format : NTSC
Video Output : RCA out x1, BNC x1, S-Video out x2
Audio Output :Stereo out x2, Optical out x1, AC3 out x1 (MSB version)
Size : 457×458×182
Weight : 28kg
Release Price : 3700 $ (400.000 yens)
Today price (used) : 300 - 1000 $
The LD-X1 is maybe the best LD player (not hi-vision) ever created.
it's a very specialized player. It can read only single side. CD are not playable.
But it reads LDs so smoothly ! not any sound from the player, even from a
CAV disc. The tray is strong. All is heavy and construted with super quality
material. The player weight 28kg, at the entire service of reading perfectly discs.
I personnaly prefer the metal rending of the HLD-X0, but I have to say that the
LD-X1 with his black piano rending is really a beauty.
Now the intersting part : picture quality. Yes, Pioneer repaired my player,
and they changed lot of condensators. That is certainly the reason why
the picture is now so good. But I have to say that I never saw that on a
LD player, even on my ex-HLD-X0 (RIP). The picture is so soft, colors so
warm, noise near 0 (except in fushia red, and some blue, like every players).
You can choose a pure signal from the disc by BNC, passing through without
any DNR. If you have a good DNR machine, this is clearly the best option. But
you can also choose to use DNR inside the player. It completly erase any trace
of noise, with a very good render.
The analog audio out deliver a very good sound. But because of the age,
the DAC is limited to 18bits. (But it is sometimes better to have a good
18bits DAC dans a bad 20 bits.) If you have a good DAC, you can connect
the player by optical out.
Conclusion : 10/10
Clearly the best player for me. But it takes time, effort and money to get a
working well machine. For people who start LD, or can't risk too much money,
I recommand a CLD-959 (CLD-97).
pictures :