"Tenchi Muyo!" was just about the first non-Mecha-oriented Anime i ever came across,
as a budding MACROSS/ROBOTECH-centric Anime fan in the late-1990's.
PIONEER attempted to push TM into the U.S. mainstream as a gateway Anime in the very-late-1990's/very-early-2000's,
with an edited, cleaned-up CARTOON NETWORK TOONAMI run of the OVA/T.V./TOKYO series.
i caught and taped random episodes at my grandma's back then, unable to afford or even find any of the proper home video releases
besides the first two movies on VHS, and the four/five volumes of CART. NET. sanitized OVA PIONEER released on VHS,
then available for cheap at my local WAL MART.
meanwhile, PIONEER licensed multiple, fairly rinky-dink firms to produce TM merchandise for the western market.
"TOYNAMI" a rather mediocre collectible toys outfit, was one of them,
their contribution to the short-lived U.S. TM! marketing campaign being an equally short-lived series of three 12in. Character Dolls.
i was mad into Tenchi Muyo at the time, and, thanks to one of my favorite comic shops of the time,
i came across all three dolls, "Ryoko Hakubi" "Tenchi Masaki" and "Ayeka Masaki Jurai" for $27 and change each,
and, even though the better part of $100.00 was hardly fun money for me at the time, i HAD to have them.
these fairly mediocre dolls were the impetuous that descended me into Anime Character Doll collecting and customization.
i wasn't satisfied for long with their stock, generally-series-accurate costumes, and wanted to seem them wearing something else.
this led me first to buying Barbie fashions, learning how to sew and modify them,
and, eventually, moving to making clothing for them entirely from scratch.
by the time i was finally able to get my own internet, and actually enter the 21st century, around 2007-ish,
i was more than ready to begin looking for the superior Japanese-market Character Dolls
that the brand-new (to me) open, worldwide online market promised to make available to me,
and, in any case, by then, my doll-tailoring skill was refined to the point where i was well ready
to move to something beyond those original, clumsily-designed TOYNAMI TM dolls.
today, over a decade later, though they've long since been supplanted by vastly superior character dolls,
i still retain those Tenchi Muyo examples, as they literally single-handedly kickstarted a major hobby for me
that i had positively zero interest in beforehand...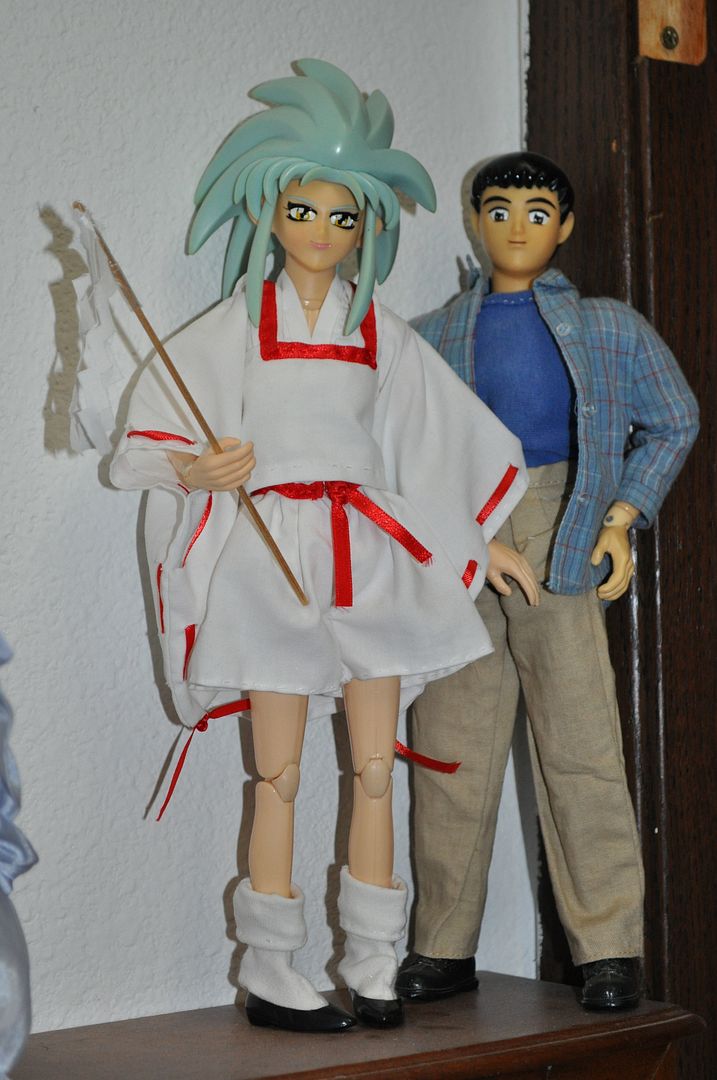 and though far from comprehensive, i do have a TM video collection with most of the essentials,
pretty much what would have amounted to a wild pipe dream during the height of my fandom, nearly 20 years ago...