I think even modern TVs sold in Europe have Teletext decoders in them, though I haven't bought a TV in a while (I still haven't gone 4K!) so I could be wrong. To use teletext subtitles, press the "text" button on the remote (if you don't have a text button on your remote, hit the subtitle button and select teletext). If you just see a mostly black screen with coloured bars at the bottom and a few numbers dotted about it's almost certain that the disc doesn't have teletext. If you do see an index screen, you would then type the page number for the subtitles - traditionally in the UK the page was 888 but LaserDiscs may use different pages; for instance my
Jurassic Park special edition UK boxset
has teletext subtitles on page 168. However, very few PAL LaserDiscs bothered with teletext subtitles (which is a real shame; my suspicion is because unlike closed captions, Teletext requires more bandwidth than VHS has, so even though LaserDisc can carry it since they weren't bothering for VHS they didn't bother for LaserDisc either); so the majority of PAL releases contain no subtitle data at all. In theory you can get a Teletext decoder if your TV doesn't support it, but in practice I don't think there are all too many of them in existence so good luck finding one.
Here is a screenshot of the index screen: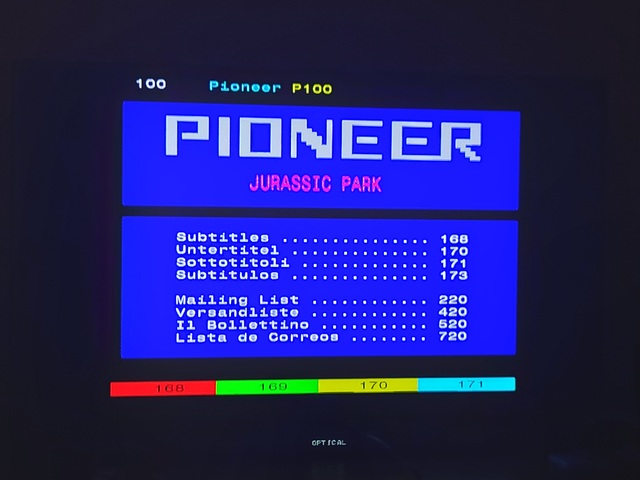 And here is an example of teletext subtitles in action (note that each speaker has a different text colour; this is a common convention in areas that use Teletext subtitles. Though oddly the font size used on this disc seems to be the standard size; subtitles on TV broadcasts in the UK would typically use the double height font for extra readability so I don't quite know why they haven't done so here):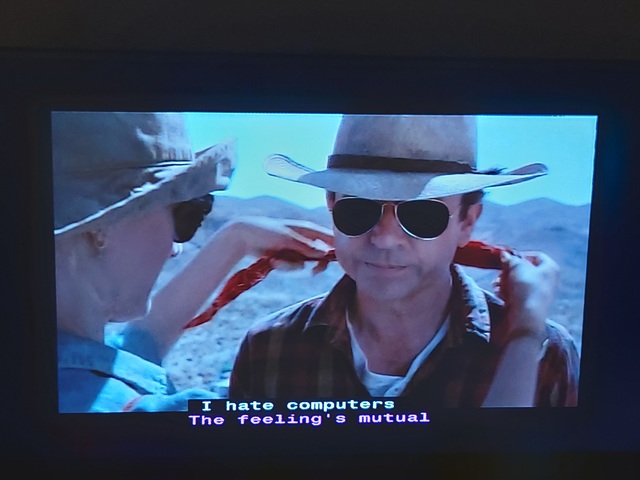 One nice thing about most European TVs having built-in Teletext decoders is that the TV will render the Teletext in the same place no matter what you do with the picture. So when I enable the zoom function on my TV this happens: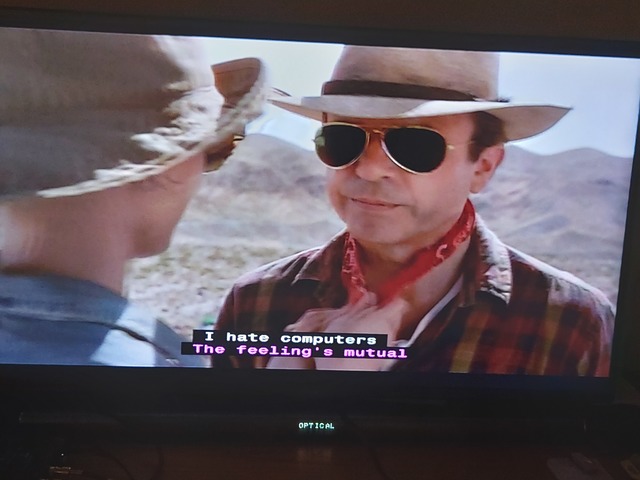 For NTSC discs, being in the UK and liking subtitles, I decided to buy a closed caption decoder. I actually was pleasantly surprised at how straightforward this was for my personal setup. I did a bit of searching on eBay and soon discovered the Contemporary Research VCC. It's a very basic closed captions decoder but it's all I really needed. The main important feature is it takes composite video in and provides composite video out (albeit with BNC connectors as often seen with professional equipment, so you'll need to have BNC to RCA adaptors). I notice there's the very similar VSCC model on eBay right now for very good prices if you want one (the only difference is in addition to the composite output the VSCC also has S-Video output; I've no idea how good its comb filter is). I wasn't really sure what to expect when I bought it but in most respects I was reasonably pleasantly surprised. I rewired my setup to go via the closed captions decoder; this also meant getting rid of the big ugly SCART cable I was previously using. At one point I connected up both at once so I could flick between the two for a side by side comparison; I could notice no difference in picture quality whatsoever going direct vs via the decoder. It also passes things like PAL signals through without alteration. However it's worth noting that when powered off it doesn't passively pass video through, so if you want it to be a permanent fixture in your system you'll need to keep it powered on all the time. It has a common barrel plug connector for DC power (12V centre positive drawing 100mA max) so you should be able to find an AC adaptor without difficulty, though I'm currently using a step-down transformer with the supplied 120V wall wart because I'm too lazy to go searching for one through my house for the right 230V power brick.
Anyway, most later American titles will have closed captions, as this was well-established in the home video world by then. Some Japanese releases have them too, but I'm not sure how prevalent this is (I don't have too many Japanese releases).
Here's a screenshot of my American copy of the
Jurassic Park special edition boxset
which has Closed Captions, running through my decoder: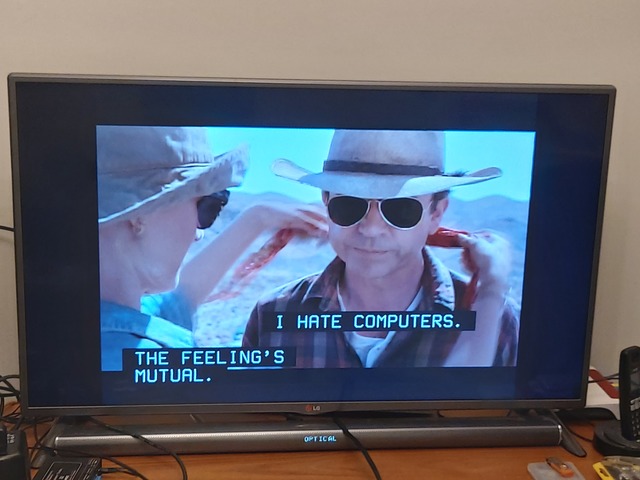 You'll notice it looks like everyone is shouting. This is because for some unfathomable reason, the usual standard with closed captions is for all dialogue to be in ALL CAPS. Descriptions of non-speech sounds are in mixed case. I've no idea why they chose to do this as it makes dialogue (the main thing people are going to be reading) much more painful to read, but there you go... You'll also notice there's no nice colouring for who is speaking (this is simply because the Closed Captions standard does not support this, I believe), but on this disc at least they seem to be making an effort to position the captions appropriately.
One significant issue with using an external decoder is it doesn't always mix well with widescreen releases. Here's what I get if I zoom the picture on my TV: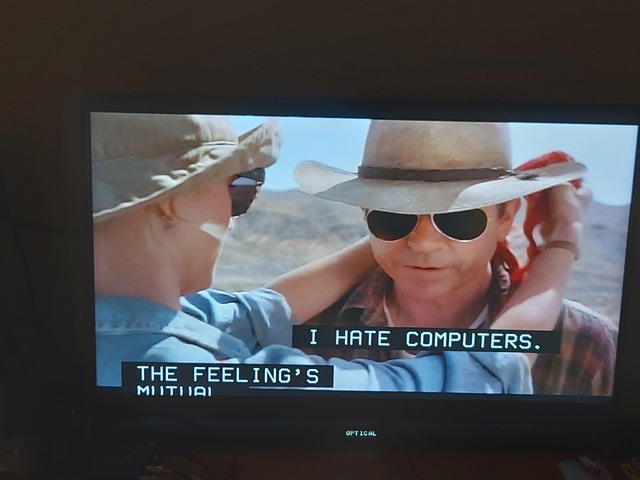 Fortunately my TV allows me to reposition the zoomed picture. So I can shift it up a little to reveal most of the captions without putting any real picture off the screen, which is fine for titles that mostly place the captions on the bottom, but if they start getting adventurous putting them on both the bottom and top there's no way I can see all the captions besides zooming back out. Anyway the shifted picture looks like this: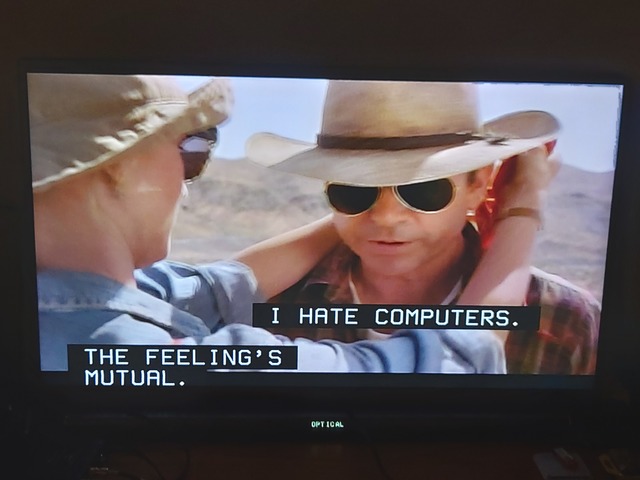 If you use a widescreen TV but it doesn't let you shift the picture in zoom mode, then you might want to consider trying to find a closed captions decoder that lets you adjust the drawable area (good luck with that, I don't know if such a thing exists!)
As for LD-G, I'm afraid that I know very little. I don't have too many Japanese releases and even fewer have LD-G so for me it just isn't worth the cost of a decoder right now.